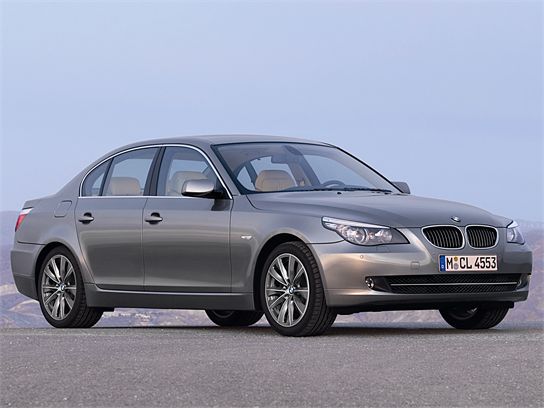 Visually, the 2008 BMW 5 Series differs little from the 2007 model it replaces, but what's under the hood is another story. The lineup starts with a 230-horsepower six-cylinder, adds a twin-turbo six for the new 535i, and keeps climbing with the 360-horse V-8 in the 550i and 500-horsepower V-10 in the mighty M5.
Audi A6, Jaguar XF, Mercedes-Benz E-Class
We'll be among the last to complain about added power under the hood, and the ever-so-slight styling changes provide little to complain about. Overall, the updated BMW 5 Series fires on all cylinders, but the horrible SMG transmission ruins what is otherwise an outstanding M5 model.
If the 2008 BMW 5 Series was a woman, she'd be ticked.
Admittedly a male perspective, but an accurate one. For any of the men out there who have bumped into a mother, sister, girlfriend, or pretty much any close female acquaintance after her trip to the salon, the importance of attention to detail is well understood. A quarter-inch cut off the back? A darker shade of chestnut brown? The unwise gent allows such monumental changes to go unnoticed at his own peril.
Thankfully, missing the subtle changes exhibited by the refreshed 5 Series risks no such consequences, which is good since the keenest observers may need some time to flush out updates such as revised fascias, reworked headlights, and the placement of little LED bulbs in the sides of the taillights. The subtlety theme carries into the interior, as well.
The engines have undergone more drastic changes, ones that make this story worth telling. There are now four choices, including a 230-horsepower base six-cylinder, a twin-turbocharged grin-inducer borrowed from the 335i, a muscular V-8, and a 500-horse V-10 reserved for use in the almighty M5.
New headlights and interior materials are nice, but an expanded powerplant lineup that ranges from the competent to the brutal, that's the stuff that's sure to grab a whole lot of attention every time – no matter who you are.
Page 2
BMW offers the 2008 5 Series in a variety of trim configurations, with different powertrains and drivetrains, not to mention varying levels of equipment. The so-called base model is dubbed the 528i, though it hardly represents what most folks consider entry-level. Standard features include 17-inch alloy wheels, power heated mirrors, a power tilt and telescoping steering wheel with secondary controls, 10-way power front seats with driver's memory, a dual-zone climate control system, Poplar wood trim, and a power sunroof. The 528i also comes with leatherette upholstery, which feels better than the real leather many less expensive offerings wear, an auxiliary MP3 jack, and BMW's iDrive interface system. An all-wheel-drive 528xi version is similarly equipped. Options for both 528 models include a heated steering wheel, intelligent cruise control, 20-way power front seats, a lane departure warning system, a heads-up display, night vision technology, leather upholstery, an upgraded Logic7 audio system, and much more.  
Next up are the twin-turbocharged 535i and 535xi sedans which, in addition to an extra 70 horses and 100 lb.-ft. of torque, feature standard front power lumbar support, different 17-inch wheels, and high-intensity discharge headlights. A 535xi Wagon is also offered.
That's it for the six-cylinder variants. The mainstream V-8 model, wearing the 550i badge, packs in even more power as well as yet another take on the 17-inch alloy wheel, automatic dimming mirrors, a universal transceiver, enhanced interior lighting, and Dakota leather upholstery. The 550i is the only model available with optional 19-inch alloys.
At the top of the heap is the 500-horsepower M5. Besides visual enhancements, this brute Bimmer an includes an MDrive feature within the iDrive system, four years of complimentary real-time traffic information, unique seats and upholstery, beefier suspension and steering setups, and options such as ventilated front buckets with power shoulder support.
With a $775 destination charge tacked on, prices for the 2008 BMW 5 Series start at $45,075. That's for a rear-wheel-drive 528i; add all-wheel-drive and an x to the badge and you're looking at a $47,275 528xi. Moving up to the 300-horsepower 535i requires a $5,100 premium, for a total of $50,175. The all-wheel-drive 535xi sedan goes for $52,375, whereas the 535xi Wagon sells for $54,775. Selecting a 5 Series with a V-8 under the hood will set buyers back at least $59,275. Consider that a bargain, since the might M5 starts at $86,675 including destination and a $3,000 Gas Guzzler Tax.
Individual factory options range from just a few hundred dollars to more than $2,000. Heated rear seats run $385, the lane departure warning system is priced at $500, the trick heads-up display goes for $1,200, the night vision system carries a $2,200 price tag, and intelligent cruise control comes in at $2,400.
Package groups, available on all models except for the M5, provide varying levels of content and are priced accordingly. The Sport Package, for instance, adds only multi-contour seats, unique exterior trim, and a sport steering wheel to the 535xi, and is priced at $1,300. However, add the Sport Package to the 550i and get the 535xi's content plus 19-inch wheels, a sport suspension, active roll stabilization, an aero package, unique exhaust pipes, and a space-saver spare tire. Not surprisingly, the price rises to $4,600. Also available is a Premium Package (not available on the 550i), which is priced between $2,100 and $2,400. Finally, a Cold Weather Package, consisting of heated seats, a heated steering wheel, and headlight washers, is priced at $750 across the board.