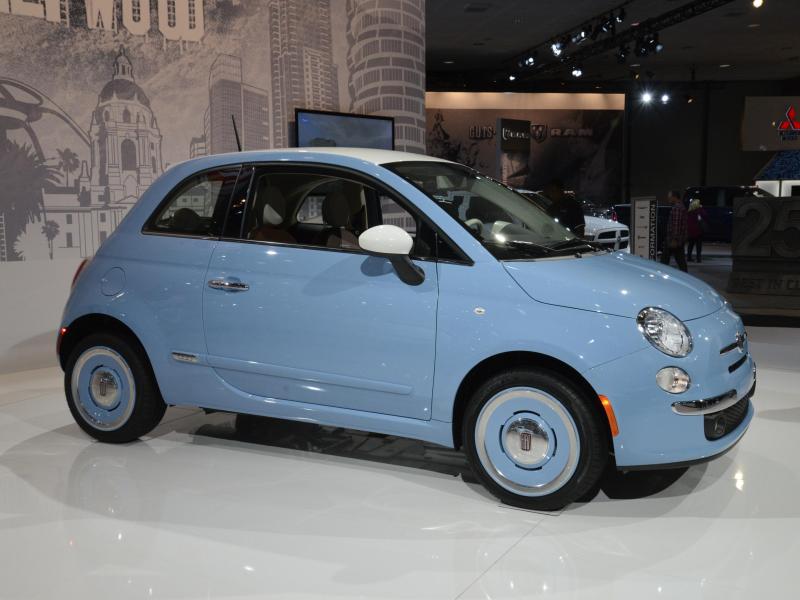 Honoring the 57th birthday of the original—which debuted in 1957—the FIAT brand has put its already retro-themed small car into the way-back machine for yet a further dose of old-school flair; the result is the 2014 Fiat 500 1957 Edition, and it's expected in dealerships later this spring.
As explained by Jason Stoicevich, Head of FIAT Brand for North America: "Combining iconic Italian design and vintage styling with modern European technology, the 2014 Fiat 500 1957 Edition is inspired by the spirit of the original 1957 Nuova 500 and offers customers the opportunity to own and drive a vehicle that celebrates Italian automotive history."
Highlights of this limited-edition 500 include a vintage-look 16-inch wheel design, 1950s-style badging, premium leather cabin appointments in brown or ivory, and three "classic" exterior colors: white, light green and celestial blue, with the latter two shades set off by a white roof and mirror caps. The 1957 upgrade is more than an appearance package, however, and also features a sport-tuned suspension to go with its peppy 1.4-liter MultiAir engine and standard five-speed manual transmission. It's a powertrain that's good for EPA marks of 31 mpg city/40 mpg highway/34 mpg combined, backed up by power outputs of 101 hp and 98 lb.-ft. of torque, and can be enhanced by an available six-speed automatic transmission with sport mode.
Also in the mix is an up-scale audio system that boasts six speakers, 276 watts of power and a USB port.
The 2014 Fiat 500 1957 Edition will be priced from $20,400, marking an increase of $1,900 as compared to the MSRP of the Lounge model on which it's based.