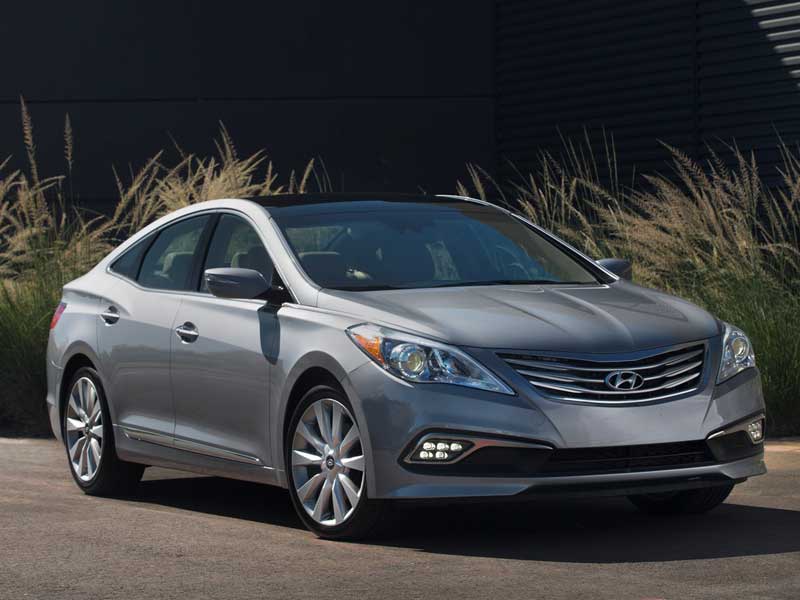 2015 hyundai azera
The restyled 2015 Hyundai Azera recently had its North American debut at the Miami International Auto Show, where the brand knew it would have a strong reception. After all, according to Mike O'Brien, vice president of Product and Corporate Planning for Hyundai Motor America:  "Other than our home market, Azera shines brightest in Florida with the second most sales by state per year."
The challenge here, however, is that no matter how you slice up those annual sales, there just haven't been that many to go around. In October, for example, Hyundai sold just 287 units of the 2014 version, leaving the Azera well off its sales pace from 2013.
To help right the ship, the 2015 Hyundai Azera enjoys a mild mid-cycle restyling both fore and aft, complemented by a fresh design for its standard 18-inch alloy wheels and illuminated door-sill plates. Also, for the 2015 Hyundai Azera Limited specifically, LED foglights are now standard, as are an unnamed number of goodies from the 2014 Premium package. Also, along with those subtle enhancements, the 2015 Hyundai Azera welcomes some key new technologies, including:
Blind-spot detection
Rear cross-traffic alert
Lane-change assist
An automatically opening hands-free trunk
Hyundai will make an important family-oriented play with the 2015 Hyundai Azera as well, introducing a new telematics feature called the "Blue Link Vehicle Safeguards Alerts In-Vehicle App." Designed to help keep teen drivers focused on the task at hand, the setup allows parents to help manage how fast the 2015 Hyundai Azera is driven, when it's driven and where it's driven, all by using either e-mail or text messaging. It's a significant advance over the similar system from 2014, which required owners to first log onto the MyHyundai website.
Explained Michael Deitz, senior group manager of Connected Care for Hyundai Motor America: "If being able to set these alerts on multiple devices makes parents' lives easier, then we furthered our goal of making the ownership experience as easy as possible."
Additionally, the alerts themselves then will be visible to younger drivers right on the multimedia screen of the car, for example, to help reinforce the goal of safe driving.
MSRPs for the 2015 Hyundai Azera will be announced closer to its on-sale date in the near-term future.