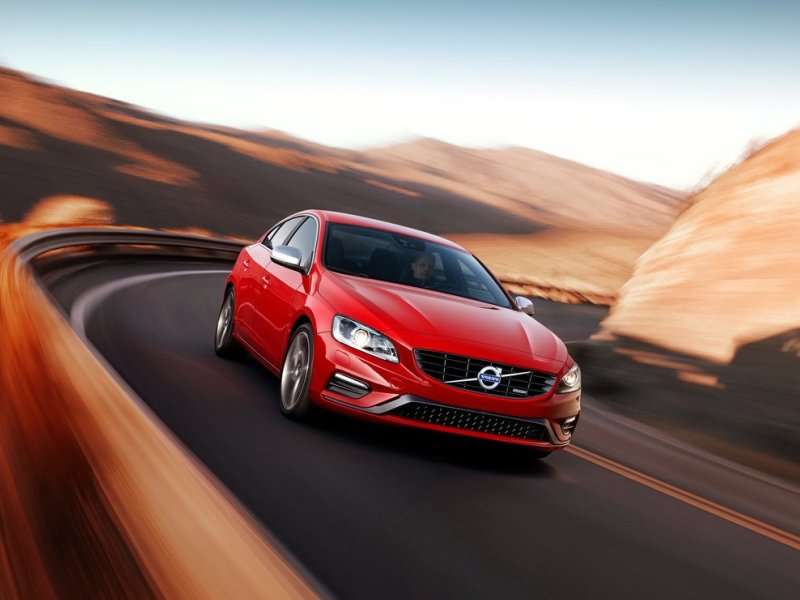 Although the price of admission to the 2014 Volvo S60 does see a $500 bump to help cover the cost of its restyled front end, enthusiasts with a need for Swede will be happy to discover the sporty R-Design is a serious $1,400 less expensive than for the 2013 model year. It will come to market featuring an MSRP of $42,700, with the entry point to the lineup—the 2014 Volvo S60 T5—starting at $32,700. The middle model, the 2014 Volvo S60 T6 AWD, enjoys the same $1,400 discount as the R-Design, to come to dealerships at $39,250.
The 2014 Volvo T5 relies on a 2.5-liter 5-cylinder turbocharged engine that makes 250 hp and 266 lb-ft. of torque. The T6 adds a cylinder and more power, topping out at 300 horses and 325 lb.-ft. of twisting power, and the 2014 Volvo S60 R-Design will continue to set the performance standard by squeezing out 325 hp and 354 lb.-ft. of torque from the same 6-cylinder, 3.0-liter turbo. But while engine outputs remain the same, the automaker has found a way to dial in a bit more fun anyway.
That's because there are new paddle shifters offered in tandem with Volvo's Advanced Quick Shift technology that, in the 2014 Volvo S60 R-Design, reduces 0-60 times to a mere 5.3 seconds—two tenths faster than the 2013 model.
In the looks department, the 2014 Volvo S60 wears a fresh, more aggressive appearance, along with restyled sheet metal from the A pillars forward. Changes include a bolder front-air intake and wider grille, set off by LED daytime running lights, while the rear of the car is fine-tuned by integrated exhaust pipes and LED accents for the taillights.
There's also a new sport package available for the Volvo T5, adding a retuned sport chassis, sport seats, paddle shifters and 18-inch alloy wheels, and all that further represents new standard content for the 2014 Volvo T6. Similarly, Volvo's AWD with Instant Traction system continues as an option in the former and as standard equipment on the latter. Of course, the key difference between the two is under the hood.
 The 2014 Volvo S60 lineup will be in dealerships later this year, naturally featuring a new safety measure as well. In fact, the automaker's new "Pedestrian and Cyclist Detection with full auto brake" system will be offered in a variety of 2014 Volvo vehicles.