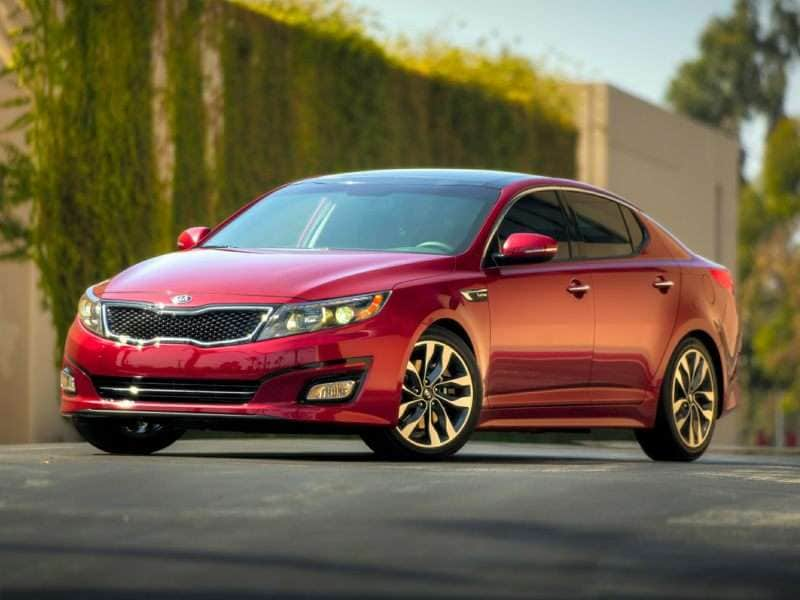 After a steady string of difficult sales months, what used to be one of the industry's fastest-growing brands will look to get back on track by launching the 2014 Kia Optima. With an even sharper, more aggressive design, as well as fine-tuned content offerings, the muscular-looking midsize sedan is on sale now priced from $21,500.
Yes, that does mark a $150 increase over the previous year's starting point, but the freshened appearance of the 2014 Kia Optima truly makes it one of the best-looking cars in the country at any price. The face of the car, already a distinctive highlight of the 2013 model, is now even more detailed, with particularly striking fog-light pockets that host new LEDs, and that same premium technology is used for the Optima's positioning lamps.
The rear fascia of the 2014 Kia Optima also has been restyled, then complemented by new rear diffusers and a resculpted trunk lid that work together to further enhance the car's aerodynamics. As for the car's driving dynamics, those get a boost in the Optima SX, which welcomes Kia's new Drive Mode Select technology; the feature allows owners to custom tune the Optima's driving reflexes based on their specific preferences and road conditions. Also in the mix for the 2014 Kia Optima are two new display resources: a standard 4.3-inch TFT LCD instrument cluster and an available high-res, 8-inch screen for navigation, telematics, audio and other vehicle systems.
Speaking of vehicle systems, the 2014 Kia Optima also offers a new one from the safety department. It's an available Blind Spot Detection setup that integrates a rear cross-traffic alert and rear parking sensors, and will complement the car's Top Safety Pick+ Award from the Insurance Institute for Highway Safety.
The party line according to the brand: "The Optima's new premium amenities and convenience add fresh allure to this runaway success story."