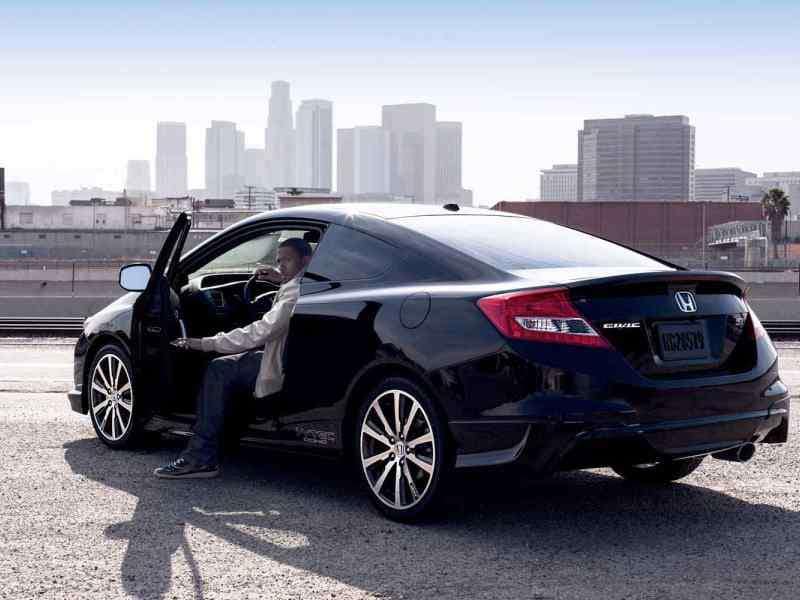 Fresh from its debut at this year's SEMA Show in Las Vegas, the restyled 2014 Honda Civic Coupe has arrived at local dealerships with an MSRP of $18,190. As those with Civic pride may recall, Honda just introduced this generation of the car in 2012, but after a challenging first year on the market, the company refreshed the sedan for 2013, and more recently turned its attention to the coupe.
Honda's efforts include some further—and more aggressive—style differences with the sedan, as well as the launch of a CVT-equipped model and premium cabin amenities.
The new transmission boosts both the performance and the efficiency of the 2014 Honda Civic Coupe, which benefits from quicker, smoother acceleration, enhanced responsiveness, and fuel-economy increases of 2 mpg city and 1 mpg combined. The tale of the tape: 30 mpg city/39 mpg highway/33 mpg combined. (A five-speed manual transmission also remains available.)
In terms of equipment upgrades, the 2014 Honda Civic Coupe welcomes a new Display Audio sound system with seven-inch touchscreen and next-gen HondaLink technology, along with the automaker's blind-spot alert feature and smart-entry/push-button ignition.
Just note that, because of some quirks in its product pipeline, Honda's current Civic portfolio (with MSRPs) includes:
2014 Honda Civic Sedan—$18,390
2014 Honda Civic Coupe—$18,190
2013 Honda Civic Si Sedan—$22,715
2013 Honda Civic Si Coupe—$22,515
2013 Honda Civic HF—$19,765
2013 Honda Civic Hybrid—$24,360
2012 Honda Civic Natural Gas—$26,305