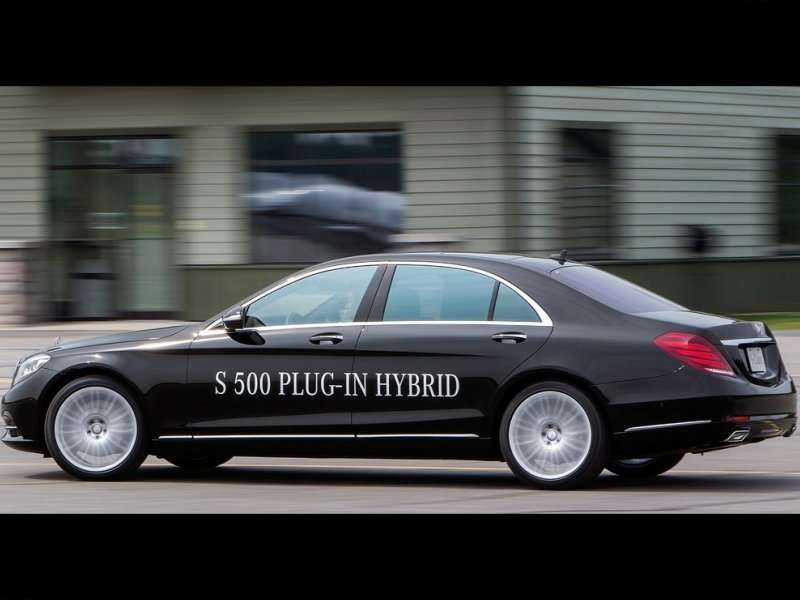 Along with creature comforts fit for a Croesus, the brand-new Mercedes-Benz S-Class also will feature a plug-in hybrid powertrain that delivers close to 19 miles of all-electric driving range and quick-charging capability expected to enable "fill-ups" in less than an hour. It's a notable next step for a company that launched the first production hybrid to rely on lithium-ion battery technology: the 2010 Mercedes-Benz S-Class Hybrid.
"With the S500 Plug-in Hybrid, Mercedes-Benz sets another milestone on the road to emission-free mobility on the basis of our modular hybrid matrix," said Prof. Dr. Thomas Weber, who sits on the Daimler Board of Management and oversees both Group Research and Mercedes-Benz Cars Product Engineering. "In this way the S-Class turns into a genuine 3.0-liter car with generous space and superlative drive-system comfort."
That "3.0-liter car" business refers to the new vehicle's turbocharged V6 engine that offers that amount of displacement as well as outputs of 329 hp and 354 lb.-ft. of torque. The gasoline-powered engine is then assisted by a 6.1-kW lithium-ion battery pack and a robust electric motor that contributes 107 hp and 251 lb.-ft. of torque to the plug-in hybrid version of the Mercedes-Benz S-Class. As a result, in addition to its previously mentioned EV range, the new car is expected to boast a top speed of 155 mph and the ability to run from 0-60 in just 5.4 seconds.
It's still too early for EPA ratings or pricing info, however, as the plug-in powertrain actually won't be available in the United States until late next year, when it will debut in the 2015 Mercedes-Benz S500 Plug-In Hybrid.
We do have a sneak peek at some of the new technologies that will distinguish the greener model from currently available 2014 Mercedes-Benz S-Class ….
Adding Green to the Mercedes-Benz S-Class
Even before the launch of its plug-in hybrid model, the 2014 Mercedes-Benz S-Class provides very respectable EPA numbers for a full-size luxury sedan that packs a 449-hp biturbo V8. In fact, by reaching 17 mpg city/25 mpg highway/20 mpg combined, the 2014 S550 nearly duplicates the fuel-efficiency performance of the 2013 S400 Hybrid, which was rated at 19/25/21. But you can expect anoticeable improvement over both those EPA lines in the 2015 S500 Plug-In, since it relies on some nifty high-tech fuel-economy features.
A case in point: By leveraging the same COMAND Online system already available in the 2014 Mercedes-Benz S-Class, next year's plug-in model will be able to anticipate changes in topography to deliver optimum energy management between electric and gasoline power. If the system detects the vehicle will be traveling in hilly terrain, for example, it can take advantage of the car's stored electric energy for an added driving boost, "knowing" that it will be able to recharge the batteries via recuperative braking on the downhill portions of the trip.
Owners also can manually adjust the plug-in model's drive system to choose from among four hybrid modes that allow for "regular" hybrid travel (HYBRID mode), on-demand all-electric driving (E-MODE), the ability to save the battery's charge for future use (E-SAVE mode), and a setting that puts the focus on recharging the battery pack (CHARGE mode).
And when it comes to on-the-go charging, the 2015 S500 Plug-In Hybrid will introduce a second-generation recuperative-braking system that seamlessly blends traditional mechanical stopping power with a regenerative system that recaptures braking energy that would otherwise be lost as heat.
Luxury drivers will be able to get their first taste of the redesigned 2014 Mercedes-Benz S-Class family in October, when the S550 goes on sale with an MSRP of $92,900.