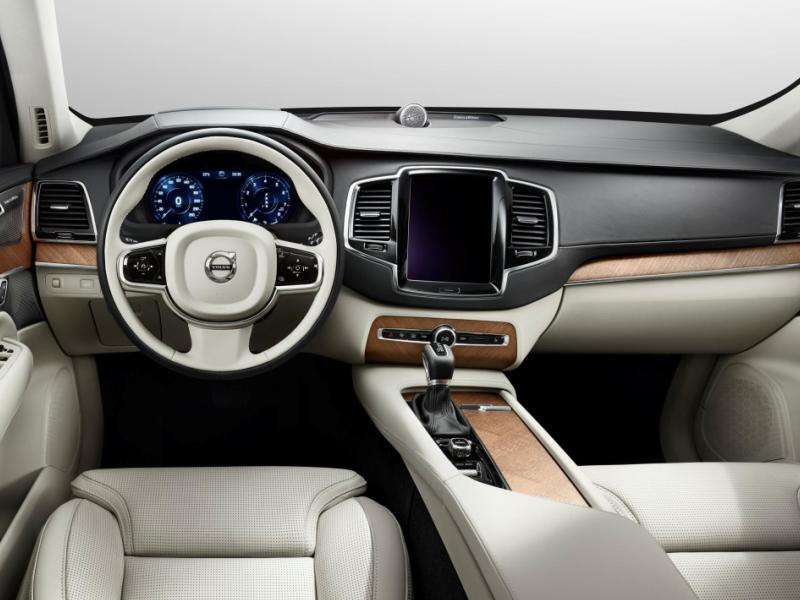 Volvo made a big impression this past auto-show season with a trio of well-regarded concept vehicles, and we're now getting a glimpse at how the brand plans to execute its new design language for retail customers, starting with the interior of the 2015 Volvo XC90. The overall approach is outlined by Peter Mertens, senior vice president research and development of Volvo Cars, who reported: "Our new interior architecture is pure and uncluttered, while still radiating the sophisticated confidence and formality that luxury SUV customers expect."
Volvo's explicit appeal to premium buyers is highlighted by a nearly Tesla-esque touchscreen control system that "represents an entirely new way for drivers to control their car and access a range of Internet-based products and services," according to Thomas Ingenlath, senior vice president of design for Volvo Cars. And interestingly, while some automakers are re-introducing traditional switchgear to back up their in-car tech offerings, the interior of the 2015 Volvo XC90 will be almost entirely devoid of buttons and knobs.
It will, however, offer some other fairly impressive goodies, like a four-zone climate system with standard individual settings for front- and second-row passengers as well as an optional a/c unit specifically for third-row occupants. Those folks also will enjoy "class-leading comfort" in seats designed for passengers up to 5'7" tall, enhanced by a sliding second row that can be adjusted for added cargo or people room while providing easy access for all rear-row riders.
Further, two different seating styles will be available in the 2015 Volvo XC90, and even the standard appointments provide adjustable side bolsters, seat-cushion extensions and lumbar support. Upgrading to the available "Contour" seating delivers enhanced support, while ventilation and massage functionality up the comfort levels appreciably. There's a bonus available for families, too, in the form of an optional child booster cushion that integrates into the center position of the third row.
Materials and craftsmanship are expected to be top-notch, of course, with Nappa leather surfaces and dark-flame birch wood trim, complemented by a cut crystal gearshift.
As for the exterior of the new 2015 Volvo XC90, the automaker plans to reveal that in August, then begin sales of the vehicle later this year.