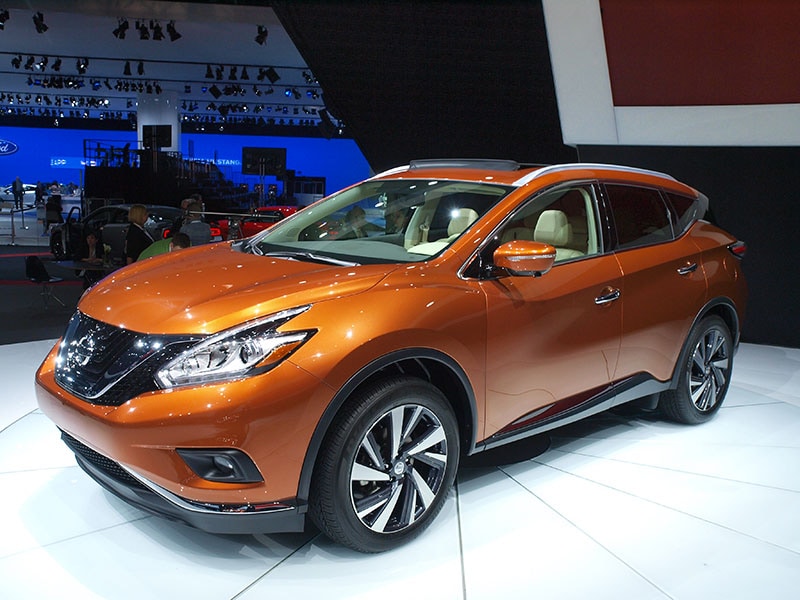 2015 Nissan murano
The 2015 Nissan Murano is officially now on sale at U.S. dealerships, offering award-winning technologies and concept-vehicle design cues with an MSRP that starts at $29,560. It's a unique package that also happens to make the 2015 Nissan Murano the largest two-row-only mainstream crossover, backed by a bumper-to-bumper length of 192.4 inches; that's some 4.6 inches longer than the Chevy Equinox and 10 inches longer than the Nissan Rogue—which can be crammed with three rows of seating.
By keeping the 2015 Nissan Murano in a two-row configuration despite its size, designers were able to create a premium space that perfectly complements the futuristic exterior appearance of the vehicle with a best-in-class mark for interior volume. Of course, actually determining in which class the new Murano belongs can be a bit tricky at the top of the range: The 2015 Nissan Murano Platinum, kitted out with all the bells and whistles—and all Nissan's connectivity and safety tech—has an MSRP of $40,600; the starting price of the Cadillac SRX—also a two-row crossover that's a bit more than 190 inches in length—is $37,605.
It's additionally worth noting that, since Toyota has cancelled the FJ Cruiser for the new model year, Nissan now has the largest 2015 crossover/SUV lineup of any mainstream brand:
Nissan—7 (2015 Nissan Murano, Juke, Rogue, Rogue Select, Pathfinder, Xterra, Armada)
Toyota— 6 (RAV4, Venza, Highlander, 4Runner, Sequoia, Land Cruiser)
Chevrolet—5 (Trax, Equinox, Traverse, Tahoe, Suburban)
Honda—4 (HR-V, CR-V, Pilot, Crosstour)
Ford—4 (Escape, Edge, Flex, Explorer, Expedition)
And Nissan remains tied for No. 1 even if you consider Jeep a mainstream brand, as that latter division also has seven crossover/SUV entries for 2015: Cherokee, Compass, Grand Cherokee, Patriot, Renegade, Wrangler, and Wrangler Unlimited).
Declared Derrick Hatami, vice president of U.S. sales for Nissan North America, Inc.: "Nissan dealers have been clamoring for the new Murano ever since the design was previewed in the futuristic Nissan Resonance Concept. Now that Murano has arrived in their showrooms, there's another great reason to celebrate the holiday season."