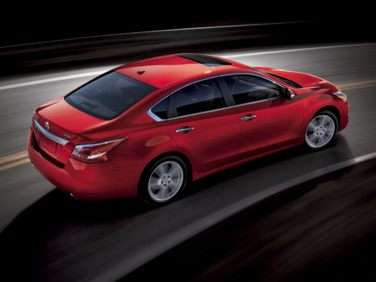 The outlook for the 2013 Nissan Altima took a minor turn for the worse recently, as the automaker is recalling about 5,500 units, along with approximately 8,420 2012 models, for an issue with improperly tightened bolts. Per Nissan's recall campaign bulletin: "The front suspension transverse link bolts and power steering rack bolts may not have been tightened to specification. This condition could cause the bolts to become loose while the vehicle is being driven."
The vehicles covered by the recall are 2012 Altimas built between May 10 and June 4, 2012, as well as 2013 models built from June 4 through July 26 of this year.
Initially, owners of affected vehicles may notice a "rattling" noise or vibration while driving, but there is the possibility that the bolts will disengage entirely, which would make controlling the vehicle a bit of a challenge. On the other hand, Nissan first became aware of the issue during routine vehicle testing late this summer, and no customer complaints have been received at this stage in the game.
The automaker will begin notifying customers of the recall on Oct 23, 2012, for what should be a simple fix, and Altima owners also can call Nissan Customer Service (1-800-647-7261) for more information about the issue.