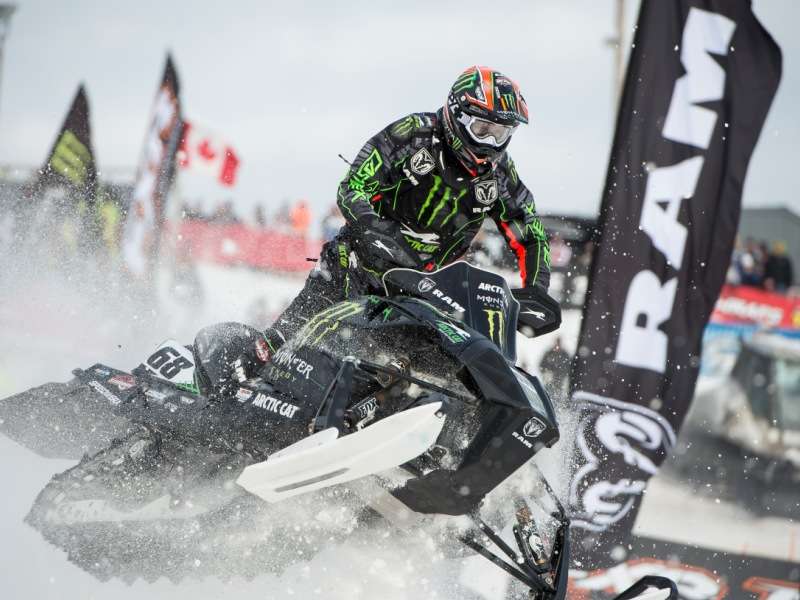 After a successful stint as Official Truck of last year's AMSOIL Championship Snocross season, the Ram Brand should face easy sledding as a top sponsor of this year's series. Ram, in fact, will be both presenting sponsor and Official Truck of the 2013-2014 series, which opens Nov. 29, 2013, with competition on Spirit Mountain in Duluth, Minn. And the decision to extend the relationship was an easy one, according to Reid Bigland, president and CEO of the Ram Truck Brand: "From the crew that designs, develops and builds Ram trucks, to our loyal owners, to the teams that compete in AMSOIL Championship Snocross, the sport is in our blood."
Of course, it also helps that there's more than a little overlap between Snocross enthusiasts and pickup owners: More than 83 percent of the series' audience drives pickup trucks, while almost 69 percent rely on their trucks for towing according to Ram. And the brand, for its part, can help meet their needs with everything from the 2014 Ram Heavy Duty—packing 850 lb.-ft. of torque and a max tow rating of 30,000 lbs.—to the new 2014 Ram 1500 EcoDiesel. The latter entry is the first modern-day light-duty pickup to offer a diesel engine, and combines a 9,200-lb. tow rating with fuel-efficiency grades as high as 25 mpg highway.
"Snowmobile owners are passionate about their trucks," added Bigland. "They depend on them to get their family, friends and trailers loaded with sleds safely to where they're going. Often, that means through the harshest weather, most difficult road conditions and sometimes mountainous terrain. Ram trucks demonstrate unmatched capability, control and comfort, helping winter sports enthusiasts enjoy their recreation time. Bottom line: you can't beat a Ram truck for all-weather capability."
Just remember, you don't have to wait for the snow to start flying before buying a 2014 Ram Truck, since the lineup is at dealerships now.