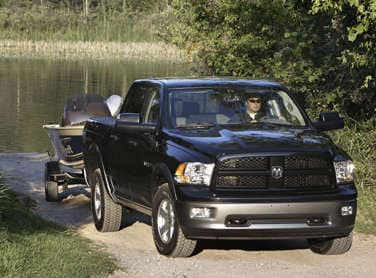 Building on its reputation for staying faithful to traditional American values, Ram Truck recently launched a comprehensive new ad campaign with a setting right out of the Old West. The effort—which will include broadcast, print and digital initiatives—is designed to remind folks of the extensive product capabilities offered by each member of the Ram brand, as well as the lineup as a whole. It also marks the introduction of the new Ram tagline: "Guts. Glory. Ram."
"The Ram Truck brand has always had the guts to perform and innovate – today, it continues to live by those rules and conducts," said Olivier Francois, lead marketing executive for the Chrysler Group. "The brand's outstanding craftsmanship and beliefs are delivered in this campaign by using the rustic 'Old West' as the perfect juxtaposition of past and present American values; a time when hard working and well-crafted man-made machines were a must."
Highlighting the campaign is a series of television commercials in which Ram vehicles are positioned as a cowboy's "faithful" companion, featuring era-authentic locations, clothing and set designs:
—Showcasing the entire Ram lineup and setting the theme for the new campaign while also burnishing both owner pride and brand consideration.
—Highlighting the proven power of the Ram pickup's available 6.7-liter turbo diesel engine—capable of delivering 800 lb.-ft. of torque.
—Focusing on the advantages offered by the unique RamBox cargo solution, which offers lockable, waterproof storage built directly into the truck bed's walls.
—Conveying how the same kind of precision and mechanical know-how needed to run a letterpress is used to craft today's hardworking Ram trucks.
You can check them all out for yourself by visiting either www.ramtrucks.com/gutsglory or www.youtube.com/ramtrucks.
"The advertising campaign for the Ram Truck brand is grounded in the fundamental principles of truth, honesty and integrity, which reflects the hardworking values of our customers," said Fred Diaz, president and CEO of Ram Truck. "The new tagline 'Guts. Glory. Ram.' pays homage to the history of the Ram Truck Brand and represents the hard work and dedication placed in the design, engineering and production of each and every Ram truck."
And remember, Ram also is supporting its lineup in another, particularly customer-friendly manner this month with its special "0 for 60" financing program, which offers 0 percent financing for up to 60 months, along with $1,000 in bonus cash, for all qualified buyers of a Ram 1500 Regular, Quad or Crew Cab pickup.
For more information on other Ram discounts and incentives for June, talk to your local dealer.