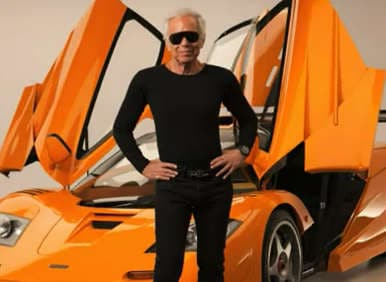 There are a lot of celebrity car collections out there, but not all of them are selected to form the basis of an international arts exhibit glorifying some of the most beautiful automotive designs to ever grace the world's highways. Accomplished fashion designer Ralph Lauren's exquisitely curated automobile holdings were given this exclusive treatment by Les Arts Décoratifs museum in Paris, France, which this past summer hosted dozens of the most notable pieces in his formidable collection.
The four-month exhibition, dubbed "L'Art De L'Automobile" (The Art of the Automobile) made available to the public some of the rarest and important cars to have survived the past 100 years, with a reach that extended back to pre-World War II European masterpieces while also including several more modern supercars.
Attendees were given the chance to marvel at race cars such as a 1933 Bugatti 59 Grand Prix, a 1929 Bentley "Blower" that was entered into the 24 Hors Le Mans Race in 1930 and a 1930 Mercedes-Benz SSK "Count Trossi" that competed in the 1931 Mille Miglia, one of the most difficult tests of man and machine ever devised.
The Ralph Lauren exhibition also included a host of extremely low-production Ferraris, including a 1958 Ferrari 250 Testa Rossa, a 1964 Ferrari 250 LM and a 1954 Ferrari 375 Plus. Jaguar was well represented with a 1955 Jaguar XKD and a 1958 Jaguar XKSS capturing the eye. Of course, Les Arts Décoratifs also showcased several important street cars, including a 1955 Mercedes-Benz 300 SL that introduced the world to the iconic "gullwing" design, as well as a 1938 Bugatti 57 S(C) Atlantic. The latter, one of only four examples known to have been built, is considered the pinnacle of French automotive design and is one of the most desirable antique vehicles in existence.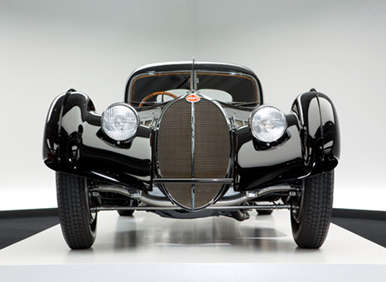 Page 3
Lauren has long been a gearhead, having dreamed of amassing a collection of important and exclusive automobiles since he was a child. Perhaps what is most impressive about each of the museum pieces owned by the designer is that they are definitely not intended as static displays. Ralph Lauren regularly drives as many of his vintage automobiles as he can, regardless of the fact that a substantial percentage of his holdings are considered irreplaceable, multi-million dollar vehicles for which replacement parts are non-existent. In recognition of Lauren's appreciation for ultimate driving machines - irrespective of their decade of manufacture - the exhibition at Les Arts Décoratifs also included a 1996 McLaren F1 LM, a special edition of the model that for many years held the title of the world's fastest street car and one which holds a special place in the hearts of automotive enthusiasts the world over.
For those unable to make the jaunt across the Atlantic to sample Lauren's collection in Paris this past summer, a book also called "L'Art De L'Automobile" was published to help commemorate the exhibition. Inside its pages, 29 of Ralph Lauren's cars are catalogued and lovingly photographed for the enjoyment of Stateside auto fans. Lauren also regularly makes his vehicles available at special engagements in the U.S. such as the Pebble Beach Concours d'Elegance, giving the hometown crowd a chance to get up close and personal with many of the vehicles that were displayed in Paris.