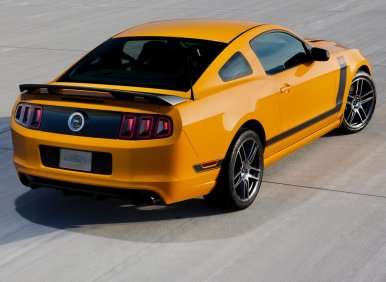 The Blue Oval has a long tradition of creating special Ford Mustangs to raise money for charities, but it usually takes a couple hundred thousand dollars to drive away with the car itself. For example, just last year, a 2012 Ford Mustang Boss 302 being auctioned to support the Juvenile Diabetes Research Foundation earned a $450,000 winning bid. That's great news for the charities, but it's a bit tough for the average gearhead to get involved in this kind of effort.
Luckily for Ford fanatics, the Michigan chapter of the National Multiple Sclerosis Society (NMSS) is taking a slightly different approach with its Boss: The society is raffling a one-off 2013 Ford Mustang Boss 302 Laguna Seca, and the tickets are just $10 each—or three for $20. The NMSS still expects to bring in $500K for the car, as it will only print 50,000 tickets.
It's nothing less than a fantastic opportunity to own a fantastic car that usually starts at $49,195 and is capable of out-performing cars that cost triple that amount.
There is one hitch, however: Michigan law prevents raffle tickets like this from being offered online; to get your hands on them, you have to call the Michigan Chapter of the NMSS at (248) 996-5426, or visit the following link, download an order form, and then use fax or snail-mail: http://www.nationalmssociety.org/chapters/mig/fundraising-events/mustang-raffle/index.aspx.
The lucky winner will be chosen during a ceremony that starts at 5:00 p.m. (Eastern time) on Aug. 18, 2012, during the Woodward Dream Cruise in the metro Detroit area. You need not be present to win, but if you do want to be on hand for the drawing, it will be at Mustang Alley at the corner of 9 Mile Road and Woodward.
2013 Ford Mustang Boss 302 Laguna Seca: Now Raffle-ready
The raffle car started life just like any other Ford Mustang Boss 302, meaning it was comprehensively upgraded with a single goal in mind: "The team at Ford wanted to offer their fellow Mustang enthusiasts something really special—a beautifully balanced factory-built race car that they could drive on the street," said Dave Pericak, Mustang chief engineer. "The Boss 302 isn't something a Mustang GT owner can buy all the parts for out of a catalog or that a tuner can get by adding a chip. This is a front-to-back re-engineered Mustang with every system designed to make a good driver great and a great driver even better."
From there, the hi-po Laguna Seca package was added into the mix, so out went the rear seats and in came an even more capable chassis setup as well as a full aero package borrowed directly from the Ford Racing Boss 302R. This being a charity car, Ford went the extra mile to offer an extra advantage, too: TracKey. Regularly available to Boss drivers (with and without the Laguna Seca upgrade), TracKey is a unique system that provides owners with two keys. The first is the traditional key for street use, the second contains a special chip that tells the car's dual-path power-control module to recalibrate the entire powertrain for track use. Performance enhancements to the variable cam timing, spark maps, engine braking, fuel control, throttle response and some 600 other engine parameters are refined "to provide a complete race car calibration," according to Ford. "The result is an aggressive, race-bred driving experience all the way down to the lopey idle rumbling through the Boss quad exhaust. It is not compatible to any other Ford vehicle."
(Because TracKey is a dealer-installed option, the raffle winner actually will get a coupon for complimentary installation from a local Ford retailer.)
It's all wrapped up in an exclusive Sterling Gray Metallic exterior finish with gloss-black striping and accents, a Charcoal Gray cloth interior and 19-inch aluminum wheels from Ford Racing. The automaker is even providing an opportunity to participate in the Boss Track Attack high-performance driving program from Ford Racing and Team Mustang—although the raffle winner has to spring for travel expenses to Miller Motorsports Park in Utah, where the program takes place.
Of course, with a brand-new 2013 Ford Mustang Boss 302 Laguna Seca to drive, that means just one thing: Road trip!