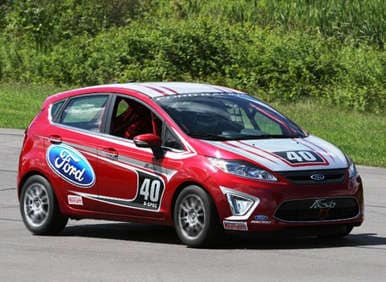 B-Spec racing is one of the hottest trends in motorsports, and the Blue Oval is now helping Ford Fiesta drivers get in on the action: Ford Racing recently introduced a new parts kit designed to transform the already-nimble Fiesta into a track-ready competition machine—at a total cost of around $25,000, car included.
The Fiesta joins cars like the Mazda2 and Honda Fit in B-Spec competition, a new and affordable opportunity for entry-level racers that was developed by motorsports sanctioning bodies GRAND-AM and the SCCA (Sports Car Club of America). With those drivers in mind, the B-Spec races are open solely to production cars with stock engines and only minimal modifications. Safety equipment, including roll cages, are required, but the only other significant changes allowed are to the cars' tires and wheels, as well as the addition of manufacturer-approved suspension upgrades.
To meet these new rules, the new Fiesta racing kit includes:
B-Spec coil-over suspension for the front and rear—$1,486
Air-conditioning delete kit—$99
Ford Racing Performance Parts (FRPP) tow hook—$55
FRPP/K&N air filter—$59
Fiesta B-Spec ABS module—$310
FRPP stainless brake hoses—$145
Fiesta short-throw shifter—$199
But drivers are urged to hurry if they want to be ready for the start of the racing season. Both the SCCA and GRAND-AM are kicking off their B-Spec series during the weekend of April 27-29, with the former scheduled to run at Miller Motorsports Park in Utah and the latter dropping the green flag at the Homestead-Miami Speedway as a support race for the Grand Prix of Miami.
Those interested in making it onto the starting grid for this year's B-Spec events should call Ford Racing Performance Parts at 1-800-367-3788.