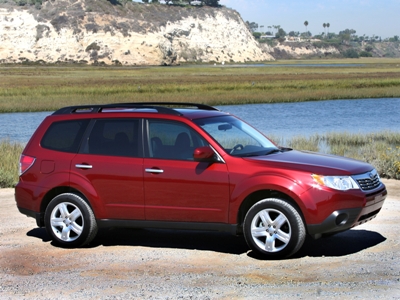 The 2009 Subaru Forester is all-new for the 2009 model year. Its styling is more like an SUV than a Subaru station wagon, yet it bears a familial relationship with the new Subaru Impreza, on which it's loosely based. The interior is more upscale in design, and roomier thanks to a longer wheelbase. Side-curtain airbags and rollover sensors are standard on all models, and Subaru Dynamic Chassis Control Concept is available. The system integrates the all-wheel drive, stability control, antilock brakes and incline start assist (on manual-transmission models) for enhanced security. There's also an available touch-screen navigation system.
Yes. The Subaru Forester has a lot going for it. First, it can actually go off-road, unlike a lot of compact crossover SUV models. Second, it has a roomy and comfortable interior. Third, even the base model has full-time all-wheel drive, and Subaru's is among the best.
Subarus are known for being quirky and having a personality, while many of its competitors are on the dull side. The Forester lives up to that billing by having an unusual engine note, interesting styling, and a fun-to-drive character.
The 2009 Subaru Forester's key competitors are the Honda CR-V and the Toyota RAV4. Both are worthy of consideration, and you can get either of them in front-drive configuration if you don't need all four wheels driven, whereas the Forester is all-wheel drive only. If you're looking for a sportier alternative, check out the Mazda CX-7.
The 2009 Subaru Forester's improvements for 2009 go well beyond new styling inside and out. The car is based on an all-new platform that is stronger, improving both safety and drivability. Prices start at $20,660 for a base Subaru Forester 2.5X to $28,660 for a 2.5XT Limited. Prices include a $665 destination charge. There are two engine and transmission choices: The Subaru Forester 2.5X, 2.5 Premium and 2.5 Limited all come with a naturally-aspirated 2.5-liter flat-four that produces 170 horsepower and sends it to all four wheels either through a five-speed manual or four-speed automatic transmission. The Forester 2.5XT and 2.5XT Limited have a 224-hp turbocharged version of the same engine, routed through a four-speed automatic transmission.
With room for five, decent if not stellar off-road ability and a very large and usable cargo area, the Subaru Forester is a good choice for those looking for a crossover that isn't as ubiquitous as the Honda CR-V or Toyota RAV4. It's even fun to drive, especially in the lower trim levels, which can be equipped with a manual transmission. We wish the turbocharged Subaru Forester XT models were available with a manual gearbox, and that the interior had more soft-touch plastics, especially on the door tops. That aside, the 2009 Subaru Forester is a good call and competitively priced.
By Keith Buglewicz Photo credit: Ron Perry