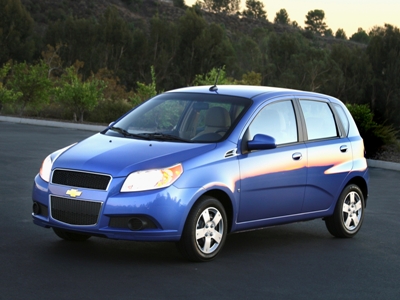 The 2009 Chevrolet Aveo5 sports new exterior styling, as well as interior upgrades. The 1.6-liter four-cylinder engine with variable valve timing is now standard on all Aveo5 models as well. So is OnStar. Otherwise, however, the Korean-built 2009 Chevrolet Aveo5 is largely carryover from previous model years.
No. The 2009 Chevrolet Aveo5 does have its good points like a good ride and nicely thought-out dash. However, the Chevy Aveo5 is far outclassed by all of its competitors, especially the likes of the Honda Fit and Nissan Versa.
Yes. General Motors owns Korean manufacturer Daewoo, which sells the Aveo5 as the Daewoo Kalos in Korea.
Unless you're a die-hard Chevrolet or domestic-nameplate fan, we'd recommend virtually every other car in the category over the 2009 Chevrolet Aveo5. Specifically, the 2009 Honda Fit, which was recently redesigned, is a significantly better vehicle in almost every respect. Same goes for the 2009 Toyota Yaris, which now comes in a five-door hatchback version, and the Nissan Versa.
The 2009 Chevrolet Aveo5 is the only subcompact car with a domestic nameplate, even though it's actually built in Korea by GM subsidiary Daewoo. It's powered by a 106-hp four-cylinder engine with variable valve timing, and offers seating for up to five.
The base model is the LS, which starts at $12,625 including the $660 destination charge. That gets you the basic car, with a radio, manual transmission, and only the most basic of equipment. Step up to the $14,760 1LT trim and you get air conditioning, an audio system with a CD player and auxiliary input jack and floormats. The $16,025 2LT adds cruise control, power door locks, a driver information center, power windows and other modern accessories. Power door locks and windows are available on the 1LT as part of a $425 option package, and an automatic transmission is available for an additional $925.
The Chevy Aveo5 offers up a comfortable ride and cleanly styled interior, but that's about it for the little Chevy 5-door hatchback's pluses. On the minus side are a noisy and gutless engine, peculiar front end styling, poorly-thought-out cargo area, cramped and uncomfortable back seat, and an overall feel of cheapness that's inescapable. Compared to the modern crop of subcompacts, the 2009 Chevy Aveo5 primarily feels dated, and most of its competition has left it far behind, offering more features, better quality, and more refinement.
By Keith Buglewicz Photo credit: Ron Perry