Interesting crossover SUV. Different. Sporty. Pointless.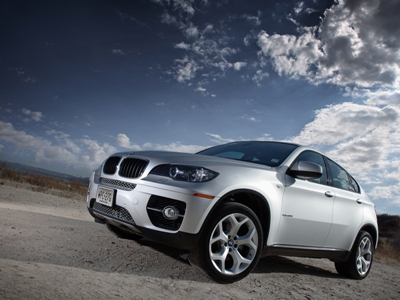 Introduced late in 2008, the 2009 BMW X6 is unchanged. You get the same choice of twin-turbocharged six- or eight-cylinder engines, automatic transmissions, four-only seating and outrageous styling as you did last year.
No. The BMW X6 does a number of things well, but nothing better than many of its stablemates: An X5 has handling that's almost as good but with more passenger and cargo room. A 3 Series handles better. A Z4 looks better. All of them are less expensive than the 2009 BMW X6, too.
BMW is crossover-crazy these days, and it is insisting on making a crossover SUV for everyone. The BMW X6 is intended to appeal to those who want a crossover SUV, but don't really need the kind of utility many crossovers offer. It's a little oxymoronic, and so is the official name: This four-door hatchback is called a "sports activity coupe" in BMW parlance.
The two biggest competitors for the 2009 BMW X6 come from somewhat surprising places. The first is the Infiniti FX, which also comes in six-cylinder and V-8 versions and sacrifices utility for performance, albeit not to the extent of the X6. The other is the BMW X5, which offers up a similar array of powertrains, more cargo and passenger room, and usable cargo space to boot.
The 2009 BMW X6 is a crossover SUV that sacrifices much in the way of utility for driver satisfaction. The problem is that it sacrifices too much for too little gain, and there are better vehicles to satisfy your desires, even in BMW's own lineup.
The 2009 BMW X6 comes in two different configurations. The X6 xDrive35i starts at $56,325, including the $825 destination charge. That gets you a 300-horsepower twin-turbocharged inline six-cylinder engine connected to a six-speed automatic transmission and full-time all-wheel drive. The next level up is the xDrive50i, costing $67,025 with destination, and boasting a twin-turbocharged 4.4-liter V-8 engine that puts out 400 horsepower, connected to a similar automatic and all-wheel drive system.
Both vehicles come standard with stability control, high-intensity adaptive headlights, keyless entry with pushbutton ignition, leather upholstery, and high-end audio systems. Optional are a cold-weather package ($1,250), a Sport Package ($3,200 on the xDrive50i; $3,700 on the xDrive35i), and a $2,200 Premium Package. Go crazy with the options, and it'd be easy to push the X6's price well into the stratosphere.
With a small interior, not-very-useful cargo area and styling that's hard to swallow for many, the 2009 BMW X6 is something of a conundrum. It does nothing particularly special, with many other BMWs offering just as much utility and/or handling for quite a bit less money. While it's nice enough to drive, we think there are better values out there.
By Keith Buglewicz Photo credit: Oliver Bentley