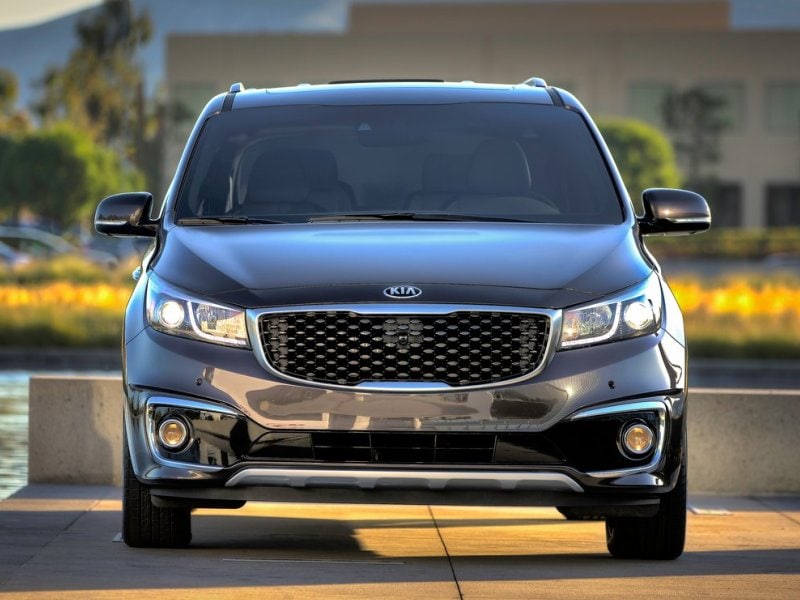 2015 kia sedona
The brand-new 2015 Kia Sedona minivan has become the third minivan in the country to earn a Top Safety Pick rating from the Insurance Institute for Highway Safety, thanks in large part to a fairly small change: an adjustment that prevents owners from disabling the doors' "auto-lock" feature. 
It seems that the IIHS begins its testing with a vehicles' doors unlocked, and although most current products automatically lock up once they start moving, such wasn't necessarily the case for the first units of the 2015 Kia Sedona. Those models allowed owners to switch off the automatic locking feature and, according to Kia, that was what resulted in a driver's-side door opening in one of the Institute's initial evaluations.
Once the change was made and the 2015 Kia Sedona was re-evaluated, it came through with "good" grades—the top marks offered by the IIHS—in all tests. And yes, that includes the small-overlap front-impact test, making the 2015 Kia Sedona just the second minivan with "good" grades across the board (along with the Honda Odyssey). Now, to be clear here, the 2015 Kia Sedona and Honda Odyssey are traditional Top Safety Picks, with the highest possible ratings in the IIHS physical evaluations and "basic" ratings for front crash-prevention technologies; the Toyota Sienna, with a more comprehensive tech setup, is the sole minivan with a Top Safety Pick+ recognition, although the Swagger Wagon only earned an "acceptable" grade for the small-overlap test.
The 2015 Kia Sedona then further stands out from the crowd with a full range of today's most popular driver-assistance measures, including not only a Forward Collision Warning System but also adaptive cruise control, blind-spot detection, lane-departure warning, rear cross-traffic alert and a 360-degree camera system.
Yet even with all that and the proverbial much, much more, the 2015 Kia Sedona is priced from $25,900, representing an increase of exactly $0 as compared to the 2014 model.
(Note: The Top Safety Pick status applies to 2015 Kia Sedona models built after November, with Kia expected to run a service campaign to adjust the door-lock system on earlier units. Current owners should see their local Kia dealers for more info.)