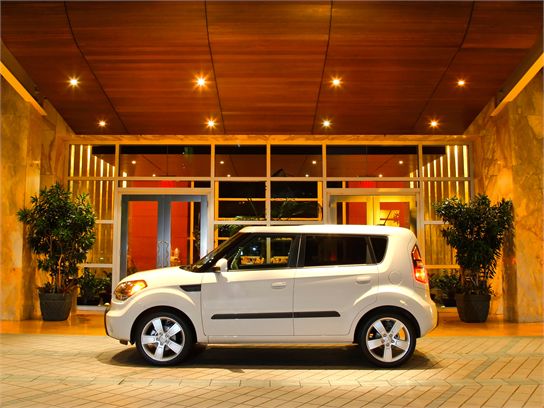 What's the difference between the Kia Rio and the Kia Spectra? We offer a question to your question not to frustrate you, but to make a point. Many don't know the difference, which has been the problem for a lot of Kia vehicles. Not so with the Soul. The Soul offers a very fresh (and distinct!) design in a compact package that offers buyers are compelling reason to look at a Kia.
Page 2
If the Kia Soul was a death-ray, it would be aimed at squarely at the Scion Xb. Chances are shoppers will find the Honda Fit, Nissan Cube, Suzuki SX4 Crossover, and maybe even the Mini Cooperin their sights too. This vehicle is clearly aimed at a younger demographic of consumers, but the styling isn't so radical as to deter buyers with more conservative tastes that might shy away from buying a Scion.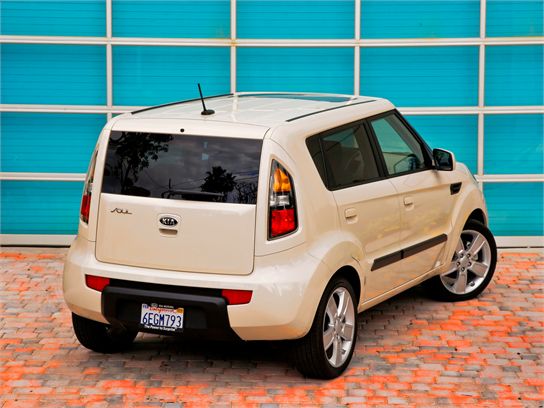 Page 3
Did you just make up that rule? Well it's generally correct, though mileage isn't quite as good as we would have hoped. With the base, 122 horsepower 1.6-liter engine, fuel economy comes out to 26/31 mpg. With the upgraded 142 horsepower 2.0-liter engine it sits at 24/30 mpg. By comparison, the new 304 horsepower Chevrolet Camaro V6 gets 29 mpg on the highway (yeah, we know, ridiculous). For a reference that is probably more relevant to you, the Honda Fit gets 27/33 mpg.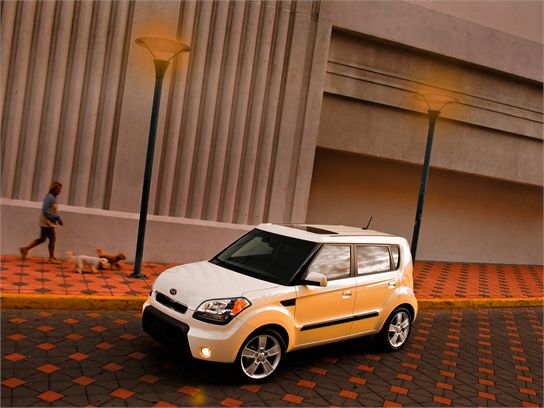 Page 4
At a price of $14,950, we say hop into the Soul+ ("+" is the vehicle trim level, like LS or 2500 4X4 SLT Long Wheelbase Quad Cab Montana Steel Body). With the "+" trim you get the upgraded engine, Bluetooth, and alloy wheels (as opposed to those dweeby wheel covers). That said, the 18" rims standard on the Soul! (not yelling, "!" is another trim level) look really nice, and might alone be worth the upgrade. The Soul! we had was well equipped at $18,595. All trims come with Kia's industry-best 10-year / 100,000-mile powertrain warranty.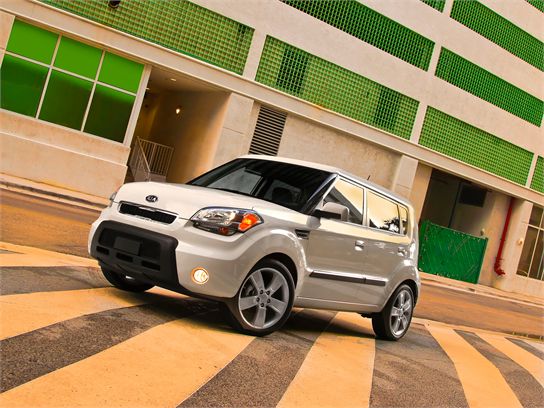 Page 5
Considering the size of Shaq's current ride of choice (inset), probably not (though he has been seen driving a SMART car, so who knows). The Kia Soul does offer a generous three and a half feet of driver legroom, so theoretically that could accommodate the 7'1" baller. All said, the Kia Soul offers plenty of cargo room for a vehicle of its size and class, especially with the back seats folded flat. While driving the Soul, we found the tall windshield offered a very un-claustrophobic experience that you typically might not expect from a more compact vehicle.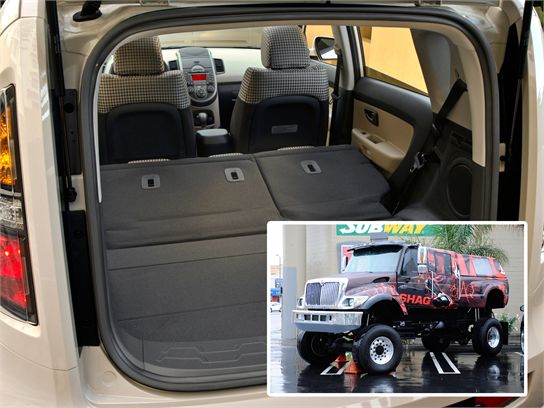 Page 6
You heard correctly. And if that doesn't do it for you, maybe a nice shade of Ignition, Shadow, Molten, or Ghost will suit you better? Most car companies hire outside consultants to do market research about what color names potential buyers might find attractive. With the Soul, we imagine Kia simply asked itself the question, "Would Vin Diesel do a movie called Molten?" If the answer was yes, that name got added to the list.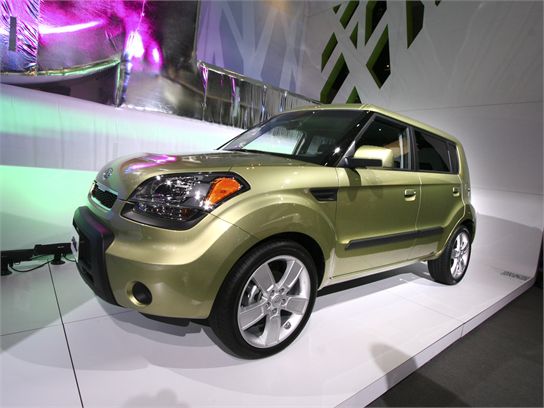 Page 7
I don't know, would an iPod-ready 315-watt sound system that pulsates colored light from the speakers be of interest to you? If not, better skip the Kia Soul and finish your fiber-enhanced cereal. This is a cool feature that should turn any night out with friends into a raging mobile dance party (just what every teenage parent loves to hear). Bluetooth is also available for hands-free cell phone use, though we had a lot of complaints from those on the other end of our calls that quality was sub-par.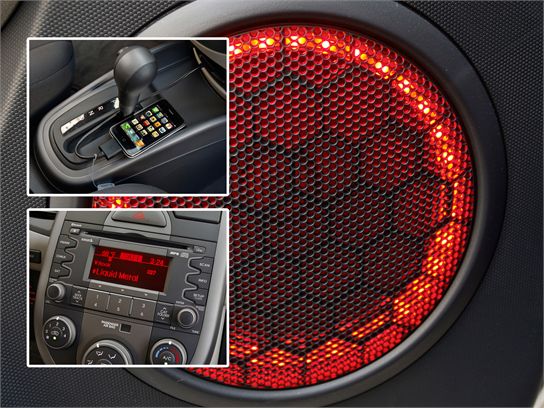 Page 8
We don't have final results from government crash tests, but the Soul does come equipped with a healthy amount of safety features, including six airbags (front, side, and full-length side curtain), four-wheel anti-lock brakes, electronic stability control, front active headrests, and tire-pressure monitoring systems. The Soul does not (and probably won't) offer all-wheel drive, so if this is a big concern for you, you might want to examine other options. The interior also has a pretty nasty blind-spot in the rear quarter, so pay extra-attention when changing lanes.

Page 9
Where the Scion Xb (left) is just plain boxy, the Kia Soul is sculpted-boxiness, and we dig it. The Nissan Cube (right) falls into the category of extreme-boxy-boxiness, which is like eating boxed take out while watching a boxing match on December 26th in Canada (Boxing Day). There was no shortage of people who approached us to ask what we were driving, including one guy who said it reminded him of his days living in a VW bus. Not really sure what to make of that last comment, but in general reactions were positive.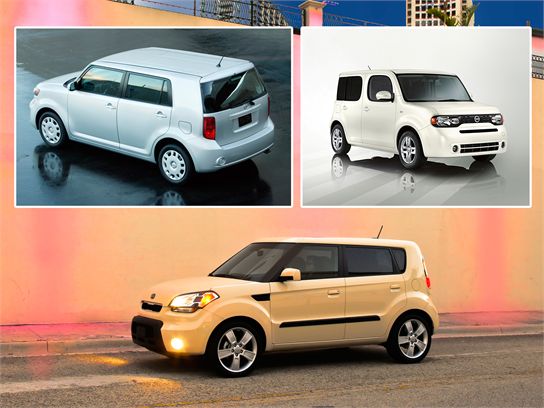 Page 10
We spent a week with a 2.0-liter engine equipped Soul coupled with the 4-speed automatic transmission. The engine was more than adequate for a vehicle of its size and class, though at high speeds we would have liked the transmission to have had an additional gear. And while our Soul wasn't equipped with the available sport suspension, it felt planted with little body roll, likely a benefit of the vehicle's wide stance. Steering was light, and as expected the car was highly-maneuverable in low-speed driving. While we didn't get a chance to check out the base engine, Kia expects most will get the upgraded 2.0-liter.

Page 11
Considering competitor Scion sells more accessories for their vehicles than a Macy's on Black Friday, you know it. Currently Kia has 33 aftermarket accessories available for purchase with the vehicle, from a custom exhaust system to an enhanced interior lighting package.