For a lot of people, it's the answer to years of prayers. Hyundai's newest car is a front-engine, rear-drive sport coupe, available with either a turbocharged four-cylinder or a 306-hp V-6 engine. Prices will range from between $22,750 for a base-model 2.0T (including the $750 destination) to a little over $30,000 when you start checking options boxes on the V-6 model.
Written by: Keith Buglewicz Photos courtesy of : Hyundai Motor
Page 2
Inexpensive rear-drive sport coupes have been extremely rare in the U.S. for decades, despite the inherent advantages of such a car to enthusiasts. Until now, it was an impossible combination: Enthusiasts could have a rear-drive coupe that was expensive, or an inexpensive one that was front-drive. Hyundai has brought them together in a very compelling new package with the 2010 Genesis Coupe.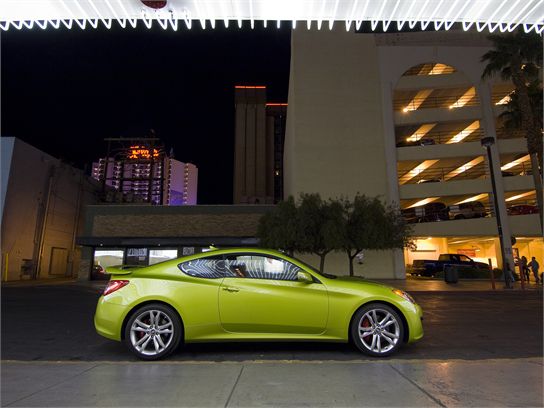 Page 3
Yes and no. To Hyundai, "Genesis" refers to its rear-wheel drive platform. While the luxury sedan last year shares the same name as the new coupe, the cars are quite different under the skin, sharing only the front MacPherson strut and rear five-point multi-link suspension layout, V-6 engine and its six-speed automatic transmission, and we assume a few nuts and bolts. Hyundai is a little cocky actually, bragging that the Genesis Coupe is significantly different from the sedan, which benefited the car in weight savings and in performance, citing the compromises Chevy and Infiniti made that resulted in the heavy Camaro and G37, respectively.
Page 4
The two cars have similar profiles, but in person the Hyundai is arguably the better looking of the two. Its dramatic nose, sculpted flanks and eye-grabbing rear end all come together in a way that no Hyundai ever has. Far and away, this is the best looking car the Korean manufacturer has ever turned out. But, yes, there's definitely some "haven't I seen you before" in the mix.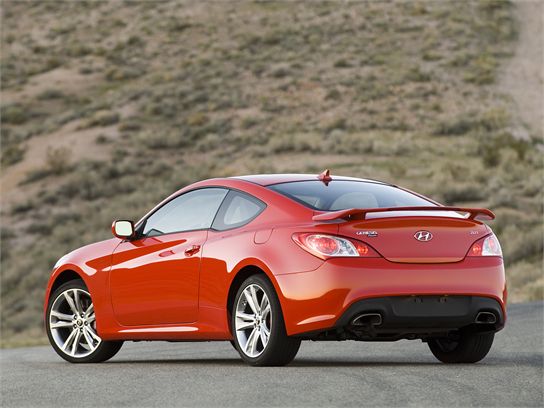 Page 5
You have your choice. The base engine on the Genesis Coupe 2.0T is a 210-hp 2.0-liter turbocharged four-cylinder, connected to either a six-speed manual or five-speed automatic transmission. It also boasts 223 lb.-ft. of torque, and will likely be the choice for many because of the potential upside for aftermarket performance parts. In stock form it's fine, but the Genesis isn't particularly quick so equipped, and the engine sound at high revs is pretty harsh.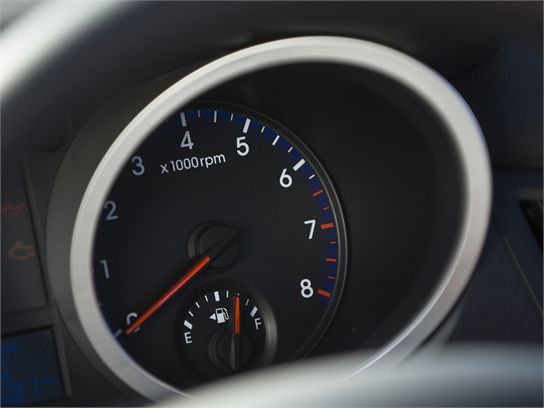 Page 6
The optional engine is on the Genesis Coupe 3.8, and you guessed it, it's a 3.8-liter V-6 that kicks out a very respectable 306 hp and 266 lb.-ft. of torque. It's also connected to a six-speed manual or automatic transmission. If you aren't into aftermarket performance, this is definitely the package to get thanks to its smooth power delivery, ample torque and satisfying sound.

Page 7
Currently, the Genesis Coupe doesn't offer the 375-hp 4.6-liter V-8 from the sedan. However, when asked, Hyundai officials explained that the nose of the coupe would have to be lengthened by two inches to accommodate the bigger engine, but were otherwise a little vague. However, there wasn't an outright "no" when asked if it will be possible in the future, so if you're hoping, maybe you can keep your fingers crossed.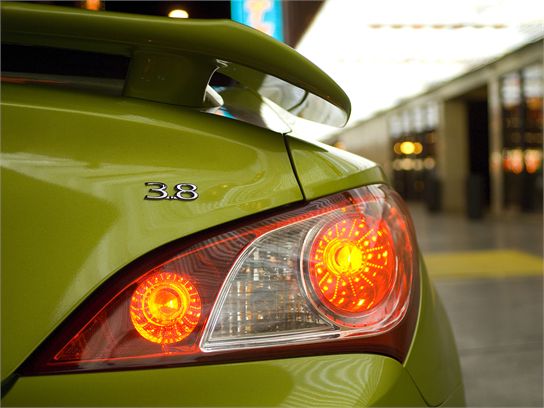 Page 8
Maybe Hyundai is still benefiting from low expectations, but we were amazed by the 2010 Genesis Coupe's sophistication. Hyundai offered up a variety of four- and six-cylinder Genesis Coupes on the "Radical Loop" at the Spring Mountain Motorsports Ranch outside of Pahrump, Nevada. The Hyundai coupe handled the track's tight curves with aplomb thanks to sharp steering, excellent reflexes, great brakes with the Track package, and an overall tight feel. It's not perfect, as the steering was a little too light, and the stability control kicked in far too harshly. However, you quickly get used to the former, and the latter can be shut off entirely.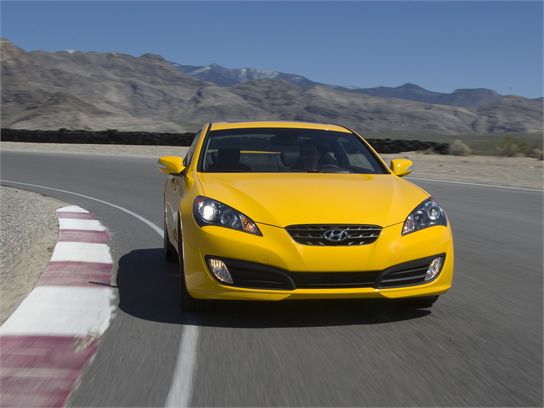 Page 9
The roads that we drove on were exceedingly smooth desert routes, mostly on very well maintained highways, so we don't have a good answer for how it handles bumpy pavement. However, the coupe was solid and secure on the roads, with nicely controlled body motions and little to suggest that the ride would be unduly harsh on rougher surfaces, even with the more tightly sprung Track package.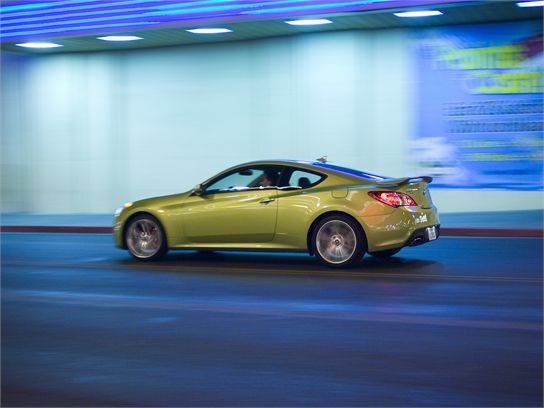 Page 10
Hyundai is serious about performance with the Genesis Coupe, and it is offering a special performance package for both the four-cylinder and V-6 versions of the car. Called the Track package, it includes stiffer springs and shocks with 19-inch "summer tires," thicker anti-roll bars, Brembo brakes, a Torsen limited slip differential, a mandatory manual transmission in 2.0T models and special interior and exterior treatments. Put together it sharpens the car's reflexes, gives it tighter handling, and really brings the package together. It also includes luxuries like a 360-watt Infinity audio system.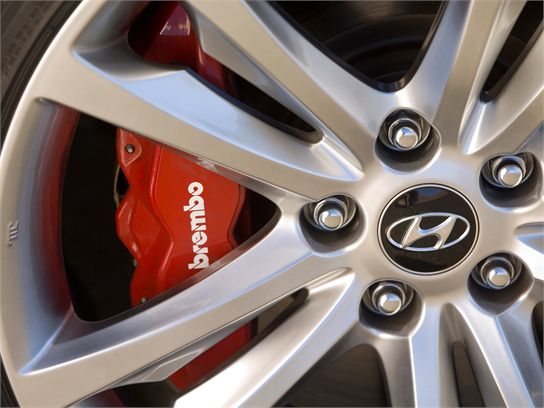 Page 11
The 2.0T comes in four different trim levels. The base model comes standard with the turbo engine, six-speed manual transmission, 18-inch alloy wheels and stability control that includes ABS, brake assist and electronic brake force distribution. It also gets a decent sounding audio system with Bluetooth connectivity that includes audio streaming. The Premium package ups the ante with a power driver's seat (with manual seatback adjustment), keyless entry with push-button start, an upgraded audio system that will include a navigation system by this summer, and a power sunroof. There's also an R-Spec package coming this summer.