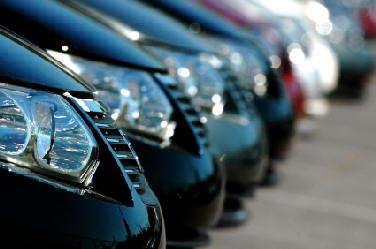 As with any type of vehicle, there are numerous pros and cons of electric vehicles (EVs). If all goes according to plan, several automakers want to look back on 2010 as the dawn of the electric vehicle (namely GM and Nissan). Both the Chevrolet Volt (pictured top left) and Nissan Leaf (pictured below right) are slated to debut at the end of 2010. But is an electric vehicle the right car for you? Or would you be happier with a traditional gasoline engine or hybrid vehicle? To find out, review the pros and cons of electric vehicles:
The main advantage of an electric vehicle is the elimination of fuel. Without the need for gasoline or diesel, EVs produce zero emissions. This effectively makes them the greenest cars presently on the market.
Additionally, electric cars are superiorly quiet when compared to gasoline-powered vehicles. The quietness of the Toyota Prius at low speeds (when the electric motor is the only power source) has been a much-discussed topic. This quiet ride is even more exaggerated in all-electric vehicles.
Another benefit of electric cars is their relatively simple construction. EVs operate off of a much simpler engine system than their gas-guzzling counterparts. Electric motors do completely away with a transmission, instead building torque straight from zero rpm. All in all, the inclusion of fewer parts means that it's less likely for something to go wrong with your car - potentially reducing the number of trips you'll need to make to the repair shop.
Though an electric car benefits from zero emissions, there are still several limitations to the technology that may turn you off from the eco-friendly EV. The biggest downside for many people is the limited mileage range afforded by electric engines. Official claims put the Nissan Leaf's maximum range at 100 miles. The Chevrolet Volt will only be able to travel 40 miles on all-electric power (though a "range-extender" gas engine kicks in to take you a maximum of 300 miles).
For most people, these reduced ranges still leave plenty of wiggle room for daily driving (the average American's commute is 33 miles). However, if you drive a lot, or enjoy the occasional road trip, then an electric vehicle may not meet your needs.
An issue that compounds this problem is recharge time. Sure, you can avoid trips to the gas station by plugging your vehicle right into any 220-volt outlet, but it'll likely take a full eight hours to achieve a complete battery recharge (though 20-minute quick-charge stations may be available in limited locations).
Electric engines are also not as powerful as gas engines. Top speed tends to max out around 60 to 70 mph (or less for smaller EVs). As such, EVs aren't really the best cars for long stints on the highway.
Finally, electric vehicles are more expensive than comparable gasoline vehicles. The Chevy Volt's base MSRP is estimated at $40,000. The Nissan Leaf will come with a more affordable price tag ($25,000 to $33,000), but is still rather expensive for a compact hatchback. The reason for these inflated price tags is the high costs associated with building the lithium-ion batteries that are required to power the electric motor.