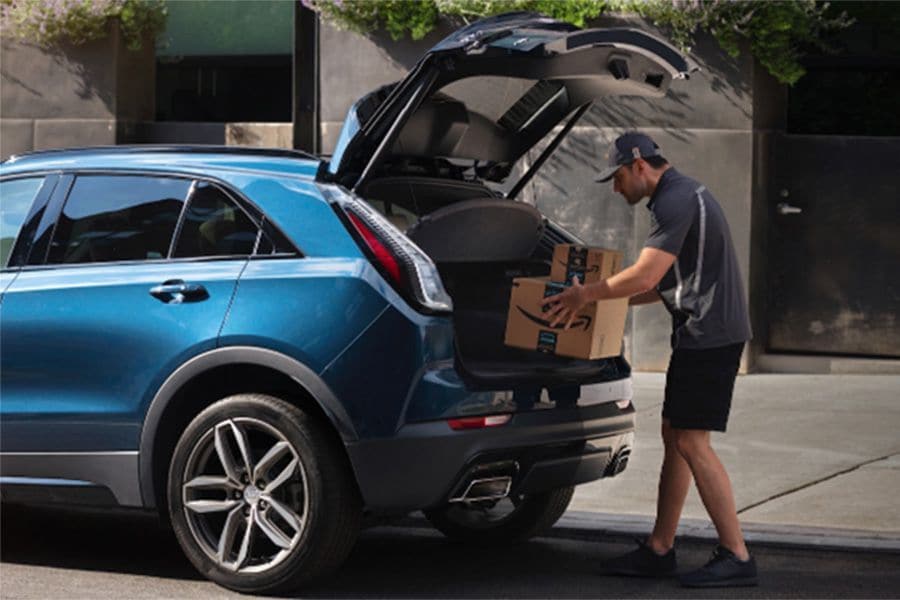 2019 Cadillac XT4 amazon delivery 900x600
In case you haven't heard, Cadillac just introduced a new subcompact crossover into their lineup: the XT4. Subcompact usually means "small" when it comes to this segment, but this Caddy is a little larger than most of its competitors: the BMW X1, Mercedes-Benz GLA-class, and Lexus NX. There's loads of information on this new vehicle, but we want to help you hopeful car shoppers by giving you a simple "yay" or "nay" on some of the key points of this vehicle.
Spoiler alert: We think the XT4 should be on your radar.
The XT4 scores points in this category for it's distinguished, sophisticated design. So many subcompact crossovers make a play for the younger driver by overdesigning the vehicle, and the ending result is that it's trying too hard. Not the XT4, though. It's handsome, refined and we think the XT4's grille is large, but not ridiculous. A shorter, squattier stance hints at sporty without being obnoxious or overpromising as well.
We are definitely "pro" when it comes to XT4's exterior design.
While the XT4's interior is clean and dignified, we wouldn't exactly call it innovative. There's no doubt you're in a Caddy, thanks to badging on the seats and upscale materials used throughout, but we were expecting a little more of a "wow factor" on the inside. We do appreciate the variety of interior upholstery colors and combinations available, and the 8-inch touchscreen. It's not that the XT4 is missing the usual luxury touches, but it does come off a little stodgy.
Even with those available massaging front seats, we have to give a "con" to the interior.
There's nothing but good news on the tech front when it comes to the XT4. First off, the CUE (Cadillac User Experience) infotainment system got a whole lot less frustrating to navigate through, and Caddy added a dial to use as an option to the touchscreen as well. There's Qi wireless charging available, smartphone integration, support for dual device connections via Bluetooth (especially helpful if you have to carry two phones), and head up display. You can even get your Amazon packages delivered for free, right to your car if you're an Amazon Prime member.
Nice job, Cadillac — you get a resounding "pro" when it comes to useful and convenient in-car technology.
Just like all of that useful tech, the available safety features in the XT4 are impressive. Some of our favorites include the rear camera mirror, which is standard on all trims and gives you an unobstructed view of what's behind you. We also like the standard OnStar service connectivity (even if a subscription costs a little extra) and the Teen Driver suite for the peace of mind it provides.
Despite huge price jumps when you add more features, safety gets a "pro" on the XT4.
In the interest of keeping things simple, we are not going to do a deep dive on performance here. Our full review on the XT4 goes into further detail on the powertrain, steering and handling, and we even have an additional article that gets into the new engine and transmission that debuted on the XT4. We're going to stick to the basics: Is it quiet? Yes. Is it easy to park? Yes. Does it feel connected to the road? Yes. Does it feel sluggish? No. It's a worthy companion on your quest to tackle a busy to-do list, and we appreciate the different drive modes to customize your experience. But if you're concerned with performance, we want to gently remind you that this is a small crossover.
We think driving the XT4 is enjoyable and easy, so that's a "pro."
This one's tough, folks. The base price of $34,795 is exciting, and surely an easy way to launch yourself into the luxury segment, but you're not getting many of the things we love about the XT4 at that price point. A more realistic price for this vehicle gets you into the $40,000s, and once you start adding AWD or even some of those tech and safety features we love, you're looking at something closer to $50K. If you're expecting to drive off the lot for under $35k, that's a definite "con."
Overall, the XT4 gets a "pro" from us. It's a handsome car offering lots of tech and a pleasing drive experience. We'd only say "nay" if you're concerned with pricing, interior design or lots of cabin space.
Happy shopping!