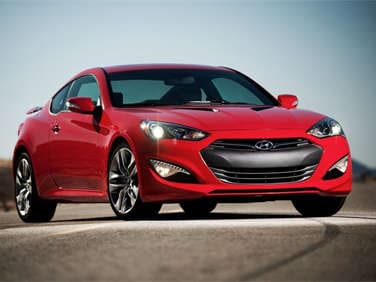 While the new 2012 Azera shows Hyundai's ongoing commitment to luxury sedans, the 2013 Hyundai Genesis Coupe displays the automaker's sportier side. Big changes for the new Genesis Coupe include better performance, an updated styling and a price that continues to give it plenty of bang for the buck.
The 2013 Coupe gets buffed up with some advanced powertrain technology, with its 2.0-liter forced-induction I4 receiving a new twin-scroll turbocharger and larger, more efficient intercooler, and its 3.8-liter V-6 benefiting from direct injection. The result—with premium fuel—is 275 hp/275 lb.-ft. of torque for the former and 348 hp/292 lb.-ft. of torque for the latter; using regular fuel cuts those numbers to 260/260 and 344/292. In addition, Hyundai has developed its own eight-speed automatic transmission for the car, retuned its suspension dampers, revised its design inside and out, and updated its technology offerings, which will include a new nav system with 7-inch touchscreen, Blue Link and HD Radio capability.
MSRPs for the 2013 Genesis Coupe start at $24,250 for the base 2.0T trim with a six-speed manual transmission and rise to $34,250 for the 3.8 Track model with Hyundai's new eight-speed autobox and Shiftronic manual gear-selection capabilities.
What's notable about the Genesis Coupe's positioning is that Hyundai isn't focused on competing against anything as plebian as one of Detroit's modern-day muscle cars; instead, the highlighted comparo in the automaker's press materials is between the hi-po 3.8 model, the 2012 BMW 335i Coupe and the 2012 Infiniti G37 Coupe. The Hyundai has some obvious advantages on paper, especially in terms of pricing against the Bimmer, which starts at $45,100, but Hyundai is asking a lot of the Genesis Coupe in hoping it will compete against the Ultimate Driving Machine.
Keep in mind that it's probably a good thing the Genesis Coupe isn't taking on cars like the Ford Mustang or Chevrolet Camaro. Although giving up a bit of ground in terms of fuel efficiency, the V-6 American cars are more powerful and less expensive than the Genesis Coupe 2.0T, while the V-8 versions have the same advantages over the Genesis Coupe 3.8.
Thus, much like the Azera, the Genesis Coupe is a fine choice on its own, but it's packaged in a way that doesn't quite match up with what's going on in the rest of the marketplace.