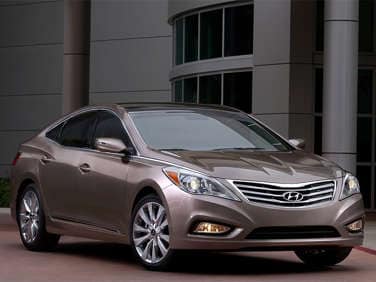 As Hyundai continues to explore ways to move its brand upmarket, the automaker has now announced the MSRP for its redesigned 2012 Hyundai Azera. Prior to the introduction of the Genesis Sedan, the Azera sat at the top of the Hyundai line-up, and with a starting MSRP of $32,000 there are now two distinct luxury sedans available for Hyundai buyers
Hyundai's decision to keep both vehicles in its product mix could be a bit confusiong, though, as Azera pricing now ranges from the $32,000 base price and $36,000 for the high-end trim, while the entry-level Genesis Sedan essentially splits the difference to come in at $34,200. Of course, the latter can be kitted out to display some serious performance chops and an equally serious MSRP, with the Genesis 5.0 R-Spec showcasing a 429-hp V-8, rear-wheel drive and a $46,500 price tag.
The Azera makes do with a new 293-horsepower, 3.3-liter direct-injected V-6 powering the front wheels, but once you get past the powertrain, the car offers plenty of other content that makes it an interesting alternative to the Genesis, particularly when the Azera has the Technology package. With that option group checked off, the Azera offers standard features like:
• Hyundai's Blue Link telematics system
• A proximity key with push-button start
• Heated and ventilated front seats along with heated rear seats
• A leather interior with a cooled glovebox
• Navigation with an integrated rearview camera
• Advanced SACHS Amplitude Selective Dampers for a superior mix of comfort and handling
• 18-inch alloy wheels
• A comprehensive Vehicle Stability Management system that combines electronic stability control, traction control, electronic brake-force distribution and brake assist
• HID headlights with LED accents
• A seven-speaker AM/FM/XM/HD/CD/MP3 Dimension sound system with a subwoofer and external amplifier
• Bluetooth functionality
• Best-in-class interior volume and fuel efficiency
That clearly makes for an attractive full-size package for some buyers, but, again, it's a lot less clear where the Azera fits into the marketplace.
But the company also explicitly compares the Azera not only to expected mainstream rivals like the Ford Taurus, Nissan Maxima and Toyota Avalon, but also to the Buick LaCrosse and Lexus ES350. And it's worth pointing out that the entry Azera is over $1,800 more expensive than the LaCrosse, while the high-end Azera is a mere $725 less than the Lexus—and $85 more than a Cadillac CTS.
None of this takes away from what the Azera has to offer, but it does illustrate some of the challenges Hyundai will face in selling it.