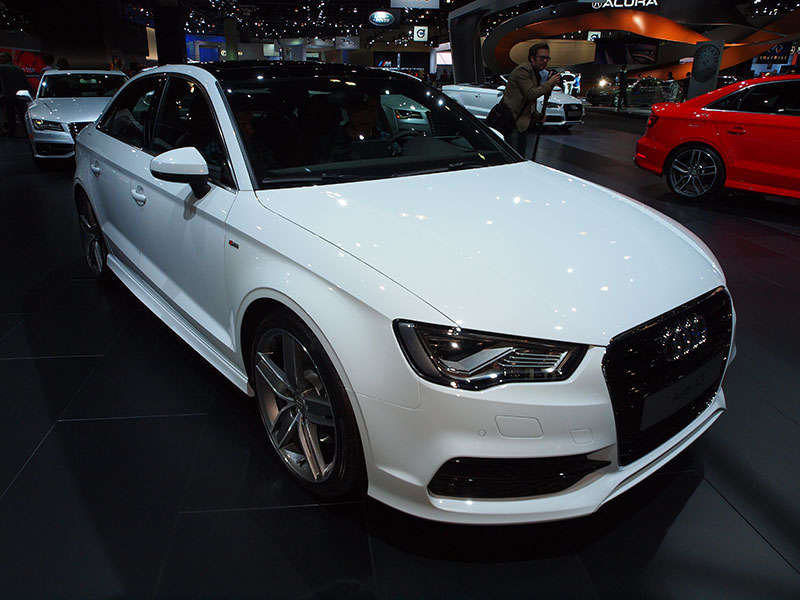 Although the 2015 Audi A3 sedan is doing just fine priced at $29,9000,folks may remember that that model is just the tip of a very long, A3-shaped spear that will include diesel, high-performance, convertible and plug-in hybrid editions as well. And while it will take some extra months for them all to arrive here, the four-rings brand did provide some pricing details for three of the new models that are expected in dealerships this summer.
The 2015 Audi A3 TDI, with a 2.0-liter clean-diesel engine that makes 150 hp and 236 lb.-ft. of torque, will open at $32,600 with an S tronic transmission and front-wheel drive; the brand has yet to provide EPA estimates for its high-efficiency diesel, but does note that its TDI vehicles raise ratings by an average of 30 percent as compared to gas-engined versions. If so, that would allow the A3 TDI to top out at more than 40 mpg highway.
Fans of open-air driving will have a pair of 2015 Audi A3 Cabriolets from which to choose. The starter model relies on a 1.8-liter turbo four and front-wheel drive, and has an MSRP of $35,600, while an upgraded 2.0-liter turbo, again with four cylinders, is packaged with quattro all-wheel drive at $38,600. Regardless of powerplant, owners will enjoy a power-opening soft-top that can be opened and closed in less than 18 seconds and functions at speed of up to 31 mph.
Topping the range for the 2015 Audi A3, at least for now, will be the Audi S3, with a $41,400 price of admission. Of course, that also includes a tuned-up 2.0-liter engine that develops 292 hp, standard quattro and a full menu of S-Line amenities and style enhancements.
Said Scott Keogh, President, Audi of America: "Since its launch in April, the all new A3 Sedan has proven itself as a market share leader in the entry premium segment and is already one of the most popular models in the Audi lineup. In its infancy the A3 has established itself as a core contributor to the Audi U.S. success story. This growth will continue as we launch a variety of body styles and unique engines to suit a wide range of customer lifestyles and tastes."