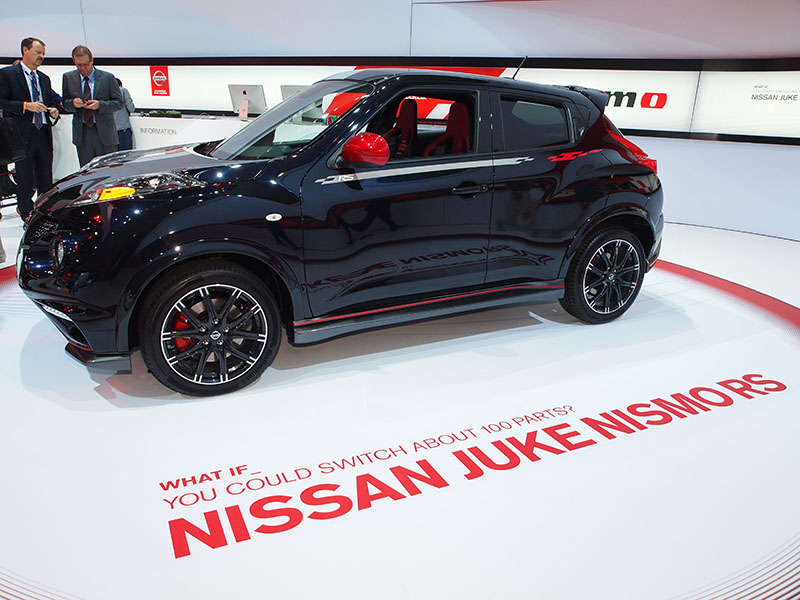 While the redesigned 2015 model is about to be launched at the Geneva Motor Show, the 2014 Nissan JUKE is showing there's still plenty to enjoy about the current version—including the price of the NISMO RS range-topping performance version, which will open at $26,120 for models with front-wheel drive and a manual transmission. The cost climbs to $28,120 for the all-wheel-drive version, but that premium also covers a more athletically oriented CVT with Sport mode and paddle shifters. (And just to keep things straight, the 2014 Nissan JUKE RS is available in just two configurations: FWD with the DIY transmission and torque-vectoring AWD mated to the CVT.)
But it also welcomes a wealth of enhancements as compared to both the entry models of the 2014 Nissan JUKE and the non-RS JUKE NISMO, including a number of performance improvements. Now, both NISMO-fied JUKEs enjoy the same 1.6-liter four-cylinder powerplant, which leverages turbocharging, direct injection and a NISMO up-tune to make 211 hp and 184 lb.-ft. of torque. But the RS edition further adds a bigger brake package with 12.6-inch front vented discs and upgraded pads, and it receives additional suspension and steering-system calibrations as well. A NISMO-tuned exhaust system helps provide a finishing touch to the exterior, while the cabin sees its own share of changes, derived from the driving environment in the Nissan 370Z.
The real highlights, however, are the Recaro front seats that are standard in the 2014 Nissan JUKE NISMO RS. Fitted with red bolsters for additional support in extreme driving maneuvers, the seats also wear embossed logos and black centers in a premium, suede-like material, and are complemented by cockpit trim with a sophisticated carbon-fiber look, as well as a stitched-suede instrument-panel hood.
The automaker also revealed MSRPs for the rest of the 2014 Nissan JUKE lineup as follows:
Nissan JUKE S with CVT/FWD—$18,990
Nissan JUKE SV with MT/FWD—$20,990
Nissan JUKE S with CVT/AWD—$20,990
Nissan JUKE SV with CVT/FWD—$22,040
Nissan JUKE NISMO with MT/FWD—$22,990
Nissan JUKE SV with CVT/AWD—$23,740
Nissan JUKE SL with CVT/FWD—$24,290
Nissan JUKE NISMO with CVT/AWD—$25,290
Nissan JUKE SL with CVT/AWD—$25,990