The new 2013 Cadillac XTS is being positioned as offering a "new formula for luxury," and one of the key ingredients in that formula is apparently going to be an MSRP of $44,995. That starting price, and a new learning-tool app for the Cadillac CUE system, were recently announced by the brand during the run-up to the XTS' spring launch. It's a very competitive starting point for the new luxury sedan, since the Cadillac is sized to fit in between German rivals like the Audi A6 and A8, and is now priced accordingly.
Consider: The XTS stretches 202 inches in length, while the A6 is 193.9 inches long with an MSRP of $41,700, and the A8 reaches 207.4 inches, with an opening price of $79,625.
2013 Cadillac XTS—CUE News
Of course, another big difference is that CUE feature, which is a prime reason the XTS is being called the most technologically advanced Cadillac ever. CUE was designed to take touchscreen-style interfaces to ye olde next level, thanks to overall functionality much like that of today's smartphones and tablet computers. Thus, drivers will enjoy benefits like large screen icons, high levels of customizability, the ability to use gestural commands (e.g., "pinching" and "swiping"), and the benefits of proximity sensing for superior accuracy when selecting screen icons.
It may sound a bit overwhelming for some potential owners, but Cadillac is making a serious effort to ensure that CUE is as easy to use as it is effective. In addition to designing CUE to offer the same basic operating experience as smartphones and tablets, Cadillac is proactively launching a new app that brings the system directly to those devices, so that users can learn about it at their own pace.
"We're taking advantage of the fact that CUE is parallel technology to tablets," said Don Butler, vice president of marketing for Cadillac. "CUE is intuitive, in part because its control and command structure aims to be consistent with popular devices millions of people already use. The app adds to this by literally putting CUE into your hands, even before you can get into the car."
Further, XTS owners will be able to use OnStar for live help with the system, while certified technology experts will be on hand at Cadillac dealerships to help provide support for CUE as well.
Both the XTS and the CUE app will be available in May.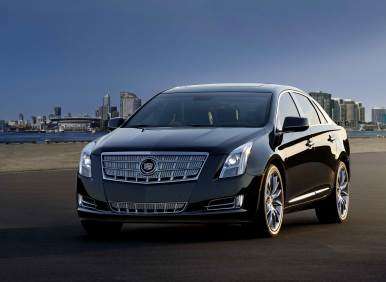 2013 Cadillac XTS: The Party Line
"The all-new XTS redefines our approach to the luxury sedan by combining advanced technology, stunning design and confident performance," added Butler.  "XTS brings new and exclusive technology, while still delivering the space and elegance that is Cadillac's DNA."