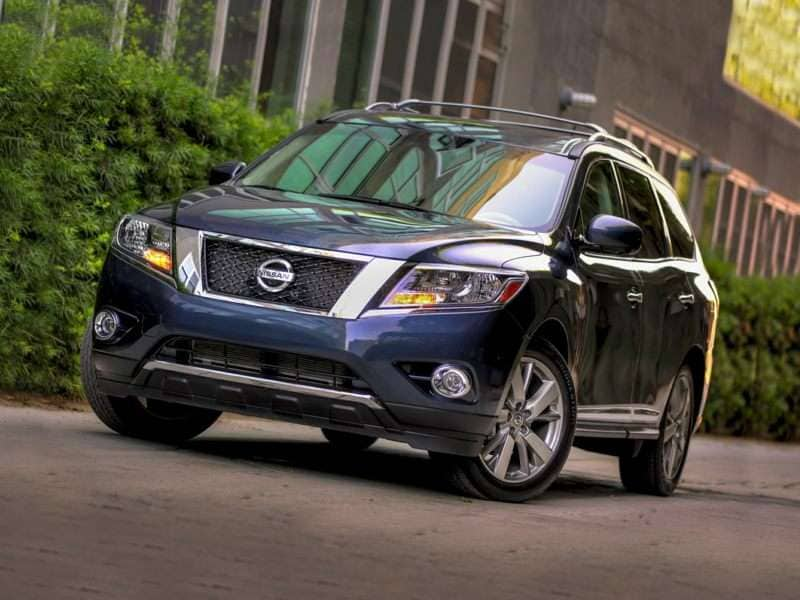 It looks like both sales and price tags are headed in the same direction for the 2014 Nissan Pathfinder. The seven-seat crossover reached dealerships this summer with an MSRP of $28,700, already $500 higher than the launch price of the all-new 2013 model, and now the automaker is tacking on another $150. After the latest increase, the starting point for the 2014 Nissan Pathfinder will be $28,850. Of course, that's still lower than the MSRP of the body-on-frame 2012 Pathfinder, and it still leaves the latest edition near the bottom of the pricing leaderboard for larger seven-seat crossovers from the mainstream brands:
2014 Chevrolet Traverse—$30,795
2014 Dodge Durango—$29,795
2014 Honda Pilot—$29,670
2014 Ford Explorer—$29,600
2013 Toyota Highlander—$29,020
2014 Nissan Pathfinder—$28,850
The Pathfinder obviously retains a decent value advantage against most of those players, and it's also been putting that advantage to good use on the sales leaderboard. Consider last month's results:
Ford Explorer—13,655 sales, +1.5 percent
Honda Pilot—9,659 sales, -3.8 percent
Toyota Highlander—8,661 sales, -20.7 percent
Nissan Pathfinder—5,537 sales, +72.8 percent
Chevy Traverse—5,389 sales, -5.2 percent
Dodge Durango—4,964 sales, +66 percent
And while the 2014 Nissan Pathfinder hasn't quite caught the Traverse in terms of year-to-date volume, the Chevy's lead could narrow considerably after the launch of the Pathfinder Hybrid—although it does appear that sales of the high-efficiency version of the Pathfinder have been delayed at least slightly. Originally touted as launching in "late summer," the 2014 Nissan Pathfinder Hybrid will now "go on sale in fall 2013," according to the brand.
Much like the vehicle itself, pricing for the Pathfinder Hybrid will be released at a later date.