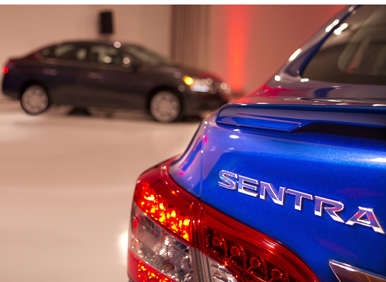 With the debut of the 2013 Nissan Sentra, the "Innovation for All" brand becomes the first Japanese player to fill out its core sedan lineup with next-gen products, adding the all-new compact to the similarly spruced up Nissan Altima and Nissan Versa. (As a reminder, although Honda has recently revamped its mid-sizer, the Honda Accord, and launched the all-new Honda Civic compact earlier this year, the subcompact Honda Fit remains an old-school choice; meanwhile, at Toyota, the Toyota Corolla and Toyota Yaris soldier on with older tech, too.)
Even better: The 2013 Nissan Sentra will be priced from $15,990, which represents a 2.7 percent reduction from the starting point of the 2012 model. And if you think that also means a reduction in content or quality, you haven't been to a Nissan dealership lately.
2013 Nissan Sentra: Welcome to the Club
Okay, truth be told, the all-new 2013 Nissan Sentra does fall short in one area as compared to the previous model: Curb weight. Not only did engineers stretch the proportions of the new Sentra a bit, even adding a few cubic inches to the car's class-above passenger volume, but they managed to do so while eliminating about 150 lbs. of unnecessary mass. That, plus a new 1.8-liter engine and a revised continuously variable transmission, allows the car to achieve 30 mpg city/39 mpg highway/34 mpg combined in its standard guise. And yes, it can tack on an extra mpg on the highway with an FE+ package that admits the Sentra to the 40-mpg club. But that's the only change in the rating, meaning that all Sentras with the CVT can showcase best-in-class grades for combined driving.
(Note: The base Sentra is offered with a standard six-speed manual transmission, for which EPA ratings have not yet been released. All other models get the segment-leading CVT.)
At the same time, the 2013 Nissan Sentra also takes a fairly broad step forward in terms of amenities and comfort, again following in the tire treads of the Altima and Versa. In the mix here are standard air conditioning (a must-have feature missing from the base Civic), LED taillamps and front accent lighting, and a healthy dose of soft-touch materials in the cabin. A wide range of upgrades is on the menu as well, including the automaker's NissanConnect system, full-function navigation, heated front seats, a rearview camera setup, push-button start and Bose premium audio.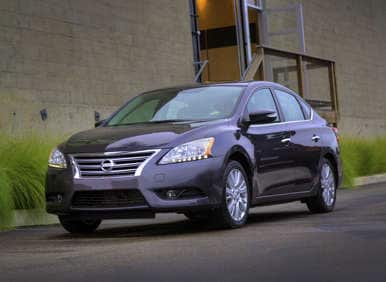 2013 Nissan Sentra: Pricing Details
Customers will be able to choose from seven basic setups with the 2013 Nissan Sentra; just remember, above the Sentra S, all models rely on the CVT.
Sentra S with 6MT—$15,990
Sentra S with CVT—$17,260
Sentra S with CVT and FE+ package—$17,660
Sentra SV, adding two more audio speakers, cruise control, light-up audio controls for the steering wheel, and premium cloth seats—$17,970
Sentra SV with FE+—$18,370
Sentra SR, for a sportier appearance that brings 17-inch aluminum-alloy wheels, a body kit, rear spoiler with integrated LED brake lights, fog lights and a chrome exhaust-tip finisher—$18,870
Sentra SL, with range-topping benefits like Bluetooth technology, heated side-view mirrors with integrated LED turn indicators, a dual-zone climate system, leather-wrapped steering wheel/shift knob, Maple wood-tone trim, and more—$19,760
The 2013 Nissan Sentra is scheduled to go on sale on Oct. 16, 2012.