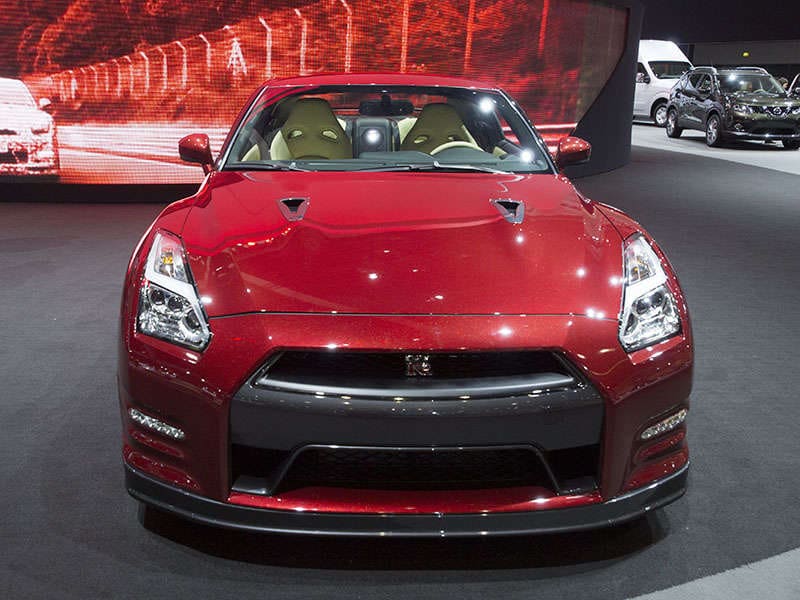 The current golden age of performance will shine yet brighter once the 2015 Nissan GT-R hits the streets. Facing increasingly tough competition from new and new-ish versions of the Chevy Corvette, SRT Viper and Porsche 911, and a next-gen Shelby Mustang and a Toyota-branded supercar almost certainly on their way, Nissan has given Godzilla a major makeover for the new model year. And while the automaker clearly claims that the changes have been deployed "without sacrificing one bit [of the car's] legendary performance," it's just as clear they're primarily aimed at adding a lux experience to go with that legendary performance.
For example, the automaker notes that the 2015 Nissan GT-R will have "a more premium interior feel with enhanced appointments," while also gaining a standard Active Noise Cancellation system from Bose. Drivers will enjoy a new "carbon-style instrument cluster" and a suspension that's been revised for a "more sophisticated ride," too. A new Ivory color scheme is offered for the interior of the entry GT-R as well, and these adjustments are capped off by some fine-tuning at the rear and front of the car; also making its first appearance up front is LED headlight technology.
Motivation will continue to come from Nissan's 3.8-liter V6, capable of delivering 545 hp and 463 lb.-ft. of torque through a six-speed dual-clutch transmission and into all four wheels.
The 2015 Nissan GT-R, of course, complements its upgrades with upgraded pricing, which now starts at $101,770 for the standard GT-R Premium, goes to $111,510 for the eye-catching Black Edition, and will reach $115,710 for the hi-po Track Edition. That latter entry will premiere this summer with limited availability, but the 2015 Nissan GT-R Premium and Black Edition are at dealerships now.
Finally, there's also a new member of the team, in the shape of the 2015 Nissan GT-R NISMO. As you might guess, this range-topper will be specially prepared for owners by Nissan's NISMO motorsports partners, then debut this summer; pricing for the NISMO-fied 2015 Nissan GT-R will be revealed closer to its on sale date, so stay tuned!