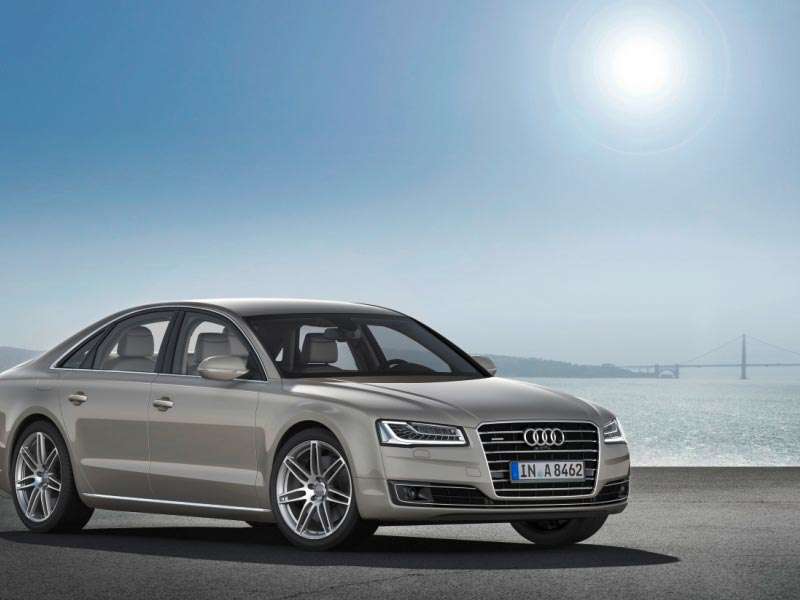 With the all-new 2014 Mercedes-Benz S-Class and refreshed 2014 Jaguar XJ spurring it on, the four-rings brand will upgrade its own flagship luxury sedan in the form of the 2015 Audi A8. Now, the car itself won't be presented to the public until September's Frankfurt Motor Show in Germany, and it won't be arriving in the United States until well after that, but Audi has provided some early details (and photos) to begin the buzz-building process.
This is more of an update than a full-on redesign for the Audi's range-topping sedan, although the 2015 Audi A8 L does grow more than five inches in terms of both wheelbase and length, and it's now more than a foot longer than the standard A8.
Both do get some visual enhancements, thanks to sharper sculpting up front that's complemented by new Matrix LED lighting technology. The tech represents another step forward by one of the industry's illumination experts, although the end result will be familiar to fans of the Ford Mustang. After all, Audi's putting a new spin on sequential turn signals with 25 LEDs per light fixture providing the illusion of motion. Further, by leveraging both GPS data and high-tech sensing devices, the control unit of the 2015 Audi A8 can adjust each one of those LEDs individually to provide optimal lighting based on route topography, the distribution of light from oncoming vehicles, and overall driving conditions.
Other new features offered by the 2015 Audi A8 will include:
More driver-assistance features, with the addition of an active lane-keeping system, park assist with a 360-degree display, and a head-up display
An enhanced selection of premium cabin materials, such as fine-grain ash and poplar wood, as well as Unikat leather
Five more exterior colors, for a total of 12 for the 2015 model year
Naturally, Audi powertrain engineers also have gotten involved in fine-tuning the 2015 Audi A8, and the results are detailed on the following page.
2015 Audi A8: The Powertrain Portfolio
The 2015 Audi A8 will continue to offer the same engines as the current model, but, at least in their German specs, outputs have been rejiggered a bit in some of them. Thus, the 3.0-liter, supercharged 6-cylinder entry point drops from 333 hp to 310 hp, while the twin-turbo V8 will enjoy a boost of 15 hp, to offer up 435 horses as well as a nice uptick in acceleration. The current 4.0-liter V8 A8 can run from 0-60 in 4.7 seconds; the 2015 Audi A8, with the uprated V8, is listed as taking less time (4.5 seconds) to achieve a higher speed (100 kilometers per hour, or about 62.14 mph) in European testing.
The 3.0-liter TDI clean-diesel V6 engine also welcomes an additional 18 hp to bring its total to 258, and the high-efficiency unit is now rated as capable of 39.87 mpg in European efficiency testing. True, it can be a little tricky translating that mark into an EPA rating, but for comparison's sake, the current diesel powerplant enables the 2014 Audi A8 L to reach 24 mpg city/36 mpg highway/28 mpg combined.
The numbers appear to be unchanged for the high-performance 2015 Audi S8, which combines 520 hp and 26 mpg in its turbocharged V8 engine, and the 6.3-liter W12 unit that's offered on the A8 L, with 500 hp and 463 lb.-ft. of torque.
Also, it should be noted that European customers for the 2015 Audi A8 will be able to choose from among two more options: a 37-mpg hybrid that can travel about 3 kilometers on electricity alone, or a titanically torqued 4.2-liter diesel that makes 385 hp and a whopping 627 lb.-ft. of twisting power.
More details about the 2015 Audi A8—including an update on whether either of those other engines will arrive here—will be provided this fall.