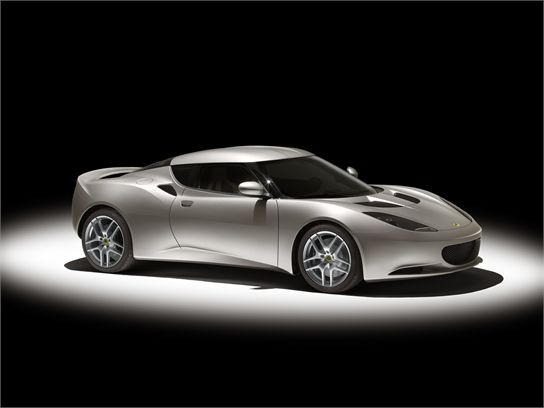 Project Eagle. A top-secret plan hatched over dinner at Ruth's Chris Steak House in 1993. The objective? To place Dick Cheney, no, a robotic clone of Dick Cheney, back in the White House. Flash forward to 2008…we are completely making all this up. Project Eagle is actually a reference to a yet-to-be-named brand new sports car from the British brand Lotus, maker of the ridiculously fun to drive and moderately uncomfortable to get into Elise. Project Eagle will go on sale in the Spring of 2009 for about £45,000, which depending on where the dollar is heading could mean anything from $80,000 to $23,000,000.
Project Eagle is the first all-new car from Lotus since the Elise was introduced in 1995. The fact that Lotus has survived on such a limited product mix is a testament to how popular their cars are. Oh, you've never heard of Lotus? How about Roger Moore's submersible sports car in The Spy Who Loved Me? That was half Lotus / half Q genius. You can expect a convertible and an ultra-high performance version of the Project Eagle as well.
Surprise! Project Eagle is powered by a Toyota derived, 3.5 liter, 280 horsepower V6 engine. Before you write off Project Eagle like a basket of failed mortgages, keep in mind that with this same engine a Toyota Camry does 0-60 in 6.2 seconds with less horsepower and more weight. So if you're going to question anything, question why a Camry needs to be that quick and not why a Toyota engine is in an exotic like a Lotus. Trust us on this one, it will be plenty fast, in fact Lotus claims Project Eagle is actually faster around the Nürburgring circuit than the Elise. Nürburgring is a famous track where you take cars to prove they are better or worse than other cars so you can make braggadocios statements in press releases.
There is no mistaking Project Eagle as a Lotus, and the back end looks lifted of the Elise. The front of the vehicle is probably our favorite part, with a hint of Ferrari 360 Modena. The rest of Project Eagle feels very busy to us, like Lotus accentuated one too many body lines. That said, we'd still turn to our boy in the bar and be like, "Yeah, I'd still take her home."
Project Eagle is what the automotive industry calls a 2 + 2, which means it can fit 2 people + 2 other people if they don't mind sitting in an upright fetal position. Buyers will be able to convert those rear seats into cargo room so you'll finally be able to fit two sets of bongos in back. You thought we were going to say golf clubs, didn't you? Silly you. But you could probably fit those too. Other notable items are air conditioning, a 7-inch touch-screen providing navigation, Bluetooth and iPod connectivity, and an optional reversing camera. Contrast all this to the Elise where extra sound insulation is an option, and you can forget about satellite navigation.
Well Lotus is a British company, so the press release says things like "boot," "bonnet" and "tyre," but clearly, it's hyped about Project Eagle. "Project Eagle's dynamically sculptured form and dramatic proportions communicate visual drama, speed and agility even when the car is standing still. However, the modern customer also demands that the product offers real-world usability as well as exotic imagery. Therefore every element of the car's exterior and interior has been carefully designed to create a product that offers comfort and convenience as well as traditional performance car attributes." They also note that "in deference to the American market in particular, a module in the headlining will accommodate automatic garage and gate opening remote controls." Do people in the rest of the world not have garages yet? Paupers.
This car is a logical step for Lotus in an attempt to expand its current product offering. Mixing in a little comfort and practicality with an already phenomenal reputation for building exciting cars can only produce good things. Just a heads up to Lotus: Take the product expansion too far and one day you'll end up with a Porsche sedan, also known as the 14th sign of the Apocalypse. We'll be watching eagerly its unveil at the British Motorshow next week to see what name is concealed in the Project Eagle manila folder.
By Elliot Darvick Photo credit: Lotus