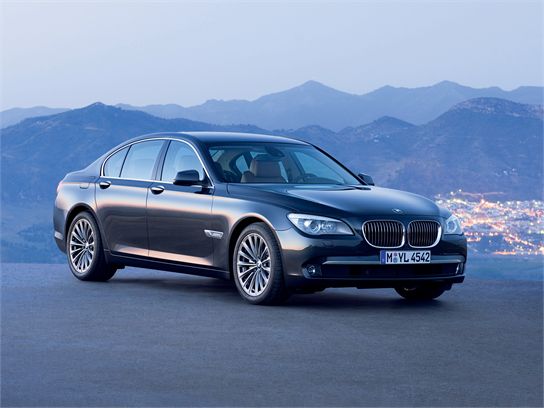 – You didn't sacrifice your family, sleep, and morals to be the partner of a law firm just to roll around in some entry-level luxury sedan. No sir, leave the BMW 3 Series for the summer associate HR warned you about dating. You drive a 7 Series. Why? Because currently BMW doesn't make a 9 Series. Get what we're saying? The 7 is at the top of the chain, the most technologically advanced, luxurious car BMW produces.
It's a flagship sedan. You read that term all the time, but what does it really mean? According to the crusty sailor we escorted off our lawn this morning, it's a designation placed on the lead ship in a fleet on account of it being the largest, fastest, newest, most heavily armed boat a navy has. So when BMW creates a "flagship sedan" such as the 7 Series, it's saying, "Mercedes-Benz, you want a piece of this? Here's what I'm bringing to the alley and you better be ready because there can only be one top dog."
How about we start off with what it doesn't have: a 32-mpg clean-diesel engine. The rest of the world will get one, just not the United States. Perhaps BMW is underestimating U.S. appetite for diesel, which is a shame, because we know plenty of wealthy Americans who put diesel on everything they eat. BMW knows Americans love power though, and the only engine available at launch for the new 7 doesn't disappoint: a twin-turbocharged 4.4 liter V-8 delivering 400 horsepower.
Sometimes it happens that the most intelligent girl in your high school class isn't that attractive. But then she comes home after her freshman year of college, and well, she's looking pretty damn fine these days. For the past couple years BMW's 7, while technologically and luxuriously competent, just looked funny, and don't get us started on its rear end. Well, just like that girl in high school, the 7 has finally blossomed into something very attractive. Too bad you never called her back senior year.
Highlights include a 10.2-in. monitor in front so you can invite your boys over and watch the Super Bowl on the big screen...and they can sit in back and enjoy the optional heated, cooled and massaging rear seats. A system called Active Blind Spot Detection will also be available so you can keep your Blackberry to your ear while changing lanes. Finally, our favorite would have to be the optional BMW Night Vision, now enhanced with technology for "recognizing and indicating individual pedestrians on or near the roadway." Let's hope BMW defines pedestrians to include deer as well. Much of the car's technology will be controlled by a new generation of iDrive that promises to be a giant improvement over the previous generation of iDrive (just like how matches are a huge improvement over flint rock).
"The fifth generation of the BMW 7 Series; a completely new interpretation of style, luxury and driving pleasure. The attributes of these vehicles are expressed visually by their design, which radiates a natural presence, inherent sportiness and an elegance born of precision in concept and execution." We're not sure we want anything in our driveway that radiates, but right on!
The amount of technology packed into this vehicle is impressive, almost overwhelming (they actually digitized the owners manual to make it accessible and searchable from the nav system). But that's kind of the point. This is a vehicle for people who at home have tons of gadgetry they probably have no clue how to work, and they expect the same level of brag-worthy sophistication from their cars. Add to that an attractive design and you have yourself a flagship that could sink a Mercedes-Benz S-Class.
The BMW 7 Series will be unveiled publicly at the Paris Auto Show in September and will likely go on sale in 2009. 
By Elliot Darvick Photo credit: BMW