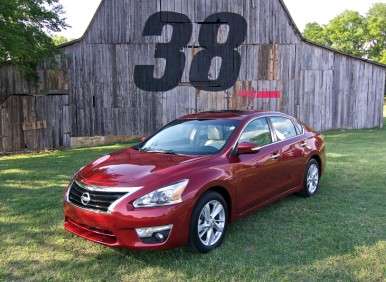 As if the car's swoopy new shape and ability to reach 38 mpg on the highway weren't enough to get you interested in the all-new 2013 Nissan Altima, the automaker is adding on another incentive: A three-year/45,000-mile complimentary maintenance program.
Now, there are few disclaimers here: You must put down a $49 (refundable) pre-order fee on a 2013 Altima by June 25, 2012, and the offer is limited to the first 25,000 customers. Also, the entry-level Altima 2.5 Base model is excluded, and customers have to confirm their pre-orders with local dealers by July 9, 2012, then take delivery of their new rides by Oct. 31, 2012.
But that being said, the program delivers up to $700 worth of benefits, including:
Up to six engine oil and filter changes
Up to six tire rotations
Up to five replacements (three in-cabin microfilter changes, as well as engine air filter and brake fluid changes)
Up to 11 inspections
Tire Road Hazard Protection (not available in Florida)
A car rental allowance of up to $35 during the vehicle's 30,000-mile service
Of course, you also get a new Altima, too, with an MSRP that starts at $22,500 for four-cylinder models and $25,360 for those with a V6.
For more information, contact your favorite Nissan dealership.