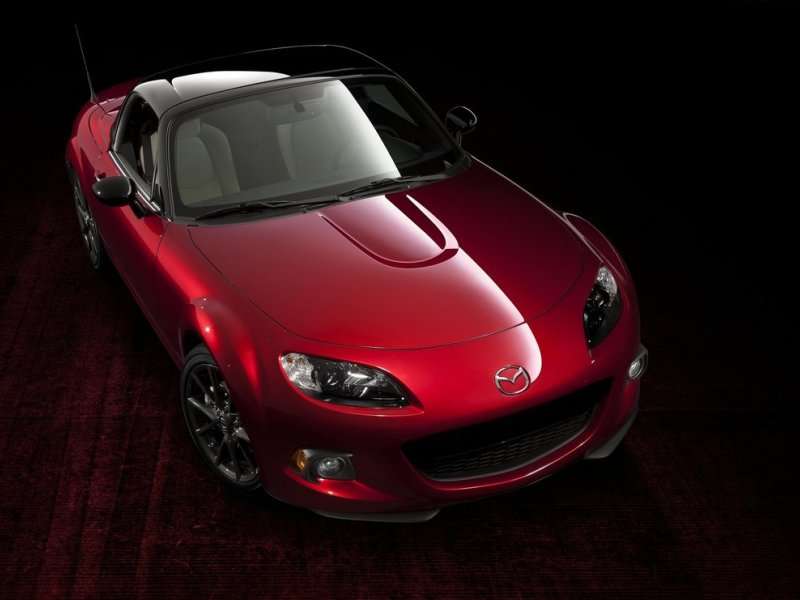 Enthusiasts hoping to get their hands on a 2015 Mazda MX-5 Miata 25th Anniversary Edition had better mark their calendars for May 20, 2014, and be ready to jump online at precisely 10:25 a.m. (PDT). That's when the Zoom-zoom brand will open up ordering for the latest limited-edition Miata, which was announced at the recent New York International Auto Show and will help mark a quarter century of production for the world's most popular roadster.
The process will begin with a visit to a new microsite specifically devoted to the 2015 Mazda MX-5 Miata anniversary variant, on Mazda's website. Folks will be asked to input key info such as their preferred transmission choice and local dealership, then will be contacted directly by a Mazda rep for verification purposes. And the brand is serious enough to warn potential buyers that: "Any attempt at multiple entries will void that participant's offer and disqualify them from the program."
Thus, to prepare for anyone trying to game the system, Mazda will allow up to 250 drivers to register for one of the 100 special edition Miatas, either closing the list at that point or on May 31, 2014, at 11:25 a.m. (PDT), whichever occurs first.
As for the 2015 Mazda MX-5 Miata 25th Anniversary Edition, it will be priced from $32,205 and offered solely with a power-retractable hard top. Also, although the celebratory package will focus on the car's appearance, the brand does claim it will boast "hand-selected" engine components to deliver a powerplant that "revs more freely with extraordinary response and acceleration." Actual specs, however, are still TBD.
Said Jim O'Sullivan, president and CEO, Mazda North America Operations: "The MX-5 Miata is not about making history but about taking innovation a step further. Twenty-five years after the vehicle was introduced, the MX-5 continues to be the benchmark for light, responsive and fun-to-drive roadsters. It is the genesis from which every Mazda since has been born. With the fourth generation MX-5 on the horizon, we look forward to reinventing the segment once again."
Note: Pricing for the "regular" 2015 Mazda Miata MX-5 will open at $23,970 for the soft-top model, which represents a bump of $250, and $28,655 for the hard-top version, an MSRP that's unchanged from today.