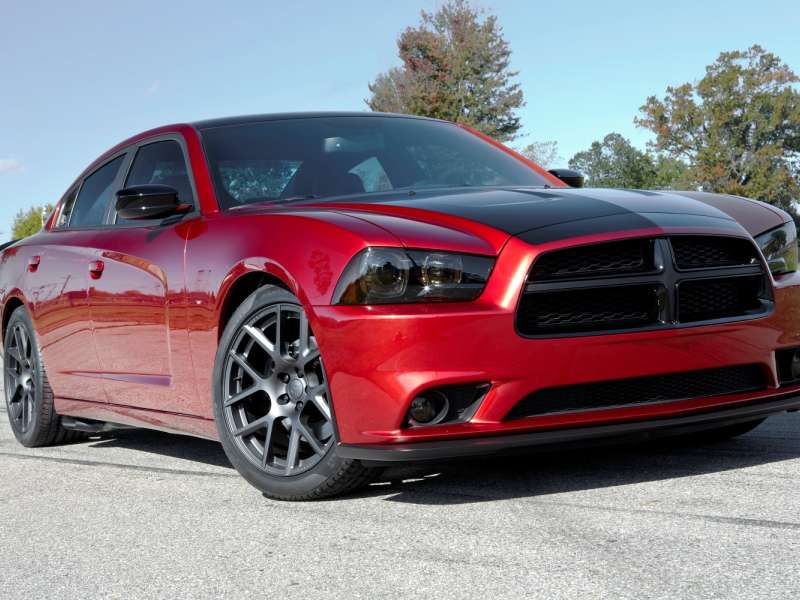 If you've ever wanted to power-up the 2014 Dodge Charger—or Challenger—to something like 433 hp and 457 lb.-ft. of torque, but while still enjoying the benefits of the Chrysler Group's factory warranty, you can now scoot into local dealerships for a Scat Pack.
The Scat Pack 3 setup delivers exactly that output from the automaker's 5.7-liter HEMI V8, representing double-digit increases of 15.5 and 11.5 percent, respectively; it doesn't affect warranty coverage when installed by an authorized dealership; and the package adds $4,995 to the starting price of either the 2014 Dodge Charger or Challenger. And if either of those increases are too steep, Mopar and Dodge also have put together two other Scat Packs.
The foundation of the performance packages is the Scat Pack 1, priced at $2,195. It squeezes an additional 18 horses and a similar amount of lb.-ft. of torque from the HEMI, which boasts a standard allotment of 375 hp and 410 lb.-ft. of torque. That works out to increases of 4.8 and 4.4 percent, and new output totals of 393 hp and 428 lb.-ft. of twist. Scat Pack 2, with an MSRP of $1,895, builds on the stage 1 upgrades to 405 hp (+8 percent).
For those with an eye for the details, the Scat Packs for the 2014 Dodge Charger and Challenger get the job done with Mopar performance enhancers like:
Cold-air intake
Cat-back exhaust
Retuned PCMs (Performance Control Modules)
Low-restriction oil filter
Hi-po camshaft kit
CNC-ported cylinder head
Hi-flow headers and catalysts
All packages feature a pair of badges, too, to provide a subtle visual boost to the 2014 Dodge Charger or Challenger.
Said Pietro Gorlier, president and CEO of Mopar, Chrysler Group LLC's service, parts and customer-care brand: "The new Scat Pack kits reinforce our commitment to the performance arena. By maintaining the vehicle warranty, we are demonstrating to customers our confidence in the kits, which were built to exactly complement the Dodge Challenger and Dodge Charger by working hand-in-hand with the engineers who use factory specs to create these vehicles—exclusive knowledge available only to Mopar."