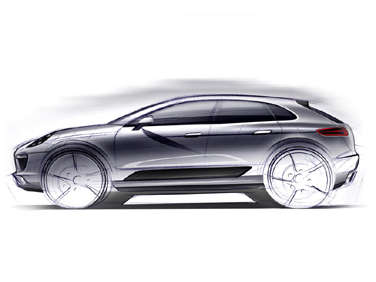 The long-awaited compact SUV from Porsche won't be named the Cajun after all. Porsche announced today that its new sub-Cayenne utility vehicle will carry the Macan name (the Indonesian word for "tiger" according to Porsche), and it will into production in 2013 most likely as a 2014 model. The Porsche Macan (pronounced mah•khahn) will be built at Porsche's Leipzig, Germany plant alongside the Cayenne and Panamera.
Although it will share a platform with the Audi Q5, the Macan will have a styling that is unique and identifiable as a Porsche based on this sketched rendering Porsche released today. Aside from its five-door configuration, the Macan carries many recognizable Porsche styling cues including the signature Porsche headlight and fascia treatment, the long hood, raked A-pillar and the sporty D-pillar angle. Porsche isn't known for makign concpet cars, so there's a good chance we could see the Macan in production form later this year at one of the European international auto shows.
In addition to its looks, the Porsche Macan is also expected to exhibit Porsche-like performance with a wider track and bigger brakes than its Audi counterpart. Some other rumors about the Macan include possible Hybrid and Turbo models as well as the possibility of a three-door model to compete with the Land Rover Range Rover Evoque.
"The Macan combines all sports car characteristics with the benefits of an SUV and is a genuine Porsche," said Bernhard Maier, Executive Vice President Sales and Marketing of Porsche AG. "The name of a new Porsche has to fit with the brand, sound good in very many languages and dialects and evoke positive associations."