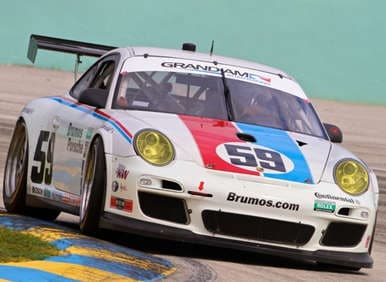 Following its triumphant return to GT racing last year that culminated with a championship trophy, Brumos Racing has left all the celebrating to its fans. Last year, Porsche built five special-edition cars for Brumos Porsche to sell (the 2012 Porsche 911 Carrera GTS B59 Edition), and now Porsche Motorsport is getting in on the fun by building five race-only Porsche 911 GT3 Cup 4.0 Brumos Commemorative Edition for racing enthusiasts to enjoy. Unlike the B59 Edition, these commemorative GT3 Cup cars are not street legal, and they will be sold exclusively through Brumos Racing, the motorsports division of Brumos Porsche dealership located in Jacksonville, Fla.
These factory race cars will actually be the last five 2012 911 GT3 Cup cars that Porsche is building for North America, and they will feature a Grand-Am-spec 4.0-liter racing engine tuned to produce "more than 450 horsepower." The cars will instantly be ready for racing in SCCA or Porsche Club of American competitions, and each 911 GT3 Cup 4.0 Brumos Commemorative Edition will certainly look the part as they will be painted in the iconic Brumos Racing livery (white with red and blue stripes) and have a rear wing with polished uprights. The cars will also have "911 GT3 Cup 4.0" badges on the rear decklid, and they will come with plenty of race equipment inside including a Motec data acquisition system mounted to a carbon dash panel, carbon floorboard under the pedals and unique chassis ID plaque. While official images of the car have yet to be released, these unique cars will look every bit as race worthy as the No. 59 car that won the 2011 Rolex Grand-Am GT Championship.
Brumos Porsche General Manager Ray Shaffer pointed out that while the dealership's usual motto is "we race what we sell," these new racecars reverse that with more of a "we sell what we race" mentality.
As expected from a factory-built, race-ready 911 limited to just five units, the Porsche 911 GT3 Cup 4.0 Brumos Commemorative Edition will have a steep MSRP of $265,259. We have no idea how much a standard GT3 Cup car costs, but we're pretty sure this isn't a bad price for an instant collector's item. Those lucky enough to snatch up one of these rare cars are definitely in for a treat. Not only will the cars be delivered at a ceremony with Brumos-legend Hurley Haywood and current drivers, Andrew Davis and Leh Keen, and buyers will also have their names painted on the roof as if they were one of the race team's drivers. Porsche and Brumos Porsche have a long history of racing, but this will a first for both with this ultra-limited racecar.
"The partnership between Brumos Racing and Porsche Motorsport goes back many decades, and we are proud and honored that Brumos is celebrating their successful 2011 comeback into GT racing with a commemorative championship edition of our 911 Cup race car," said Jens Walther, president of Porsche Motorsport North America, Inc. "This is the first time that Porsche Motorsport North America has offered a special limited edition of a race car, and the happy owners of these cars will have a lot of fun at the track with the unique and beautiful cars."