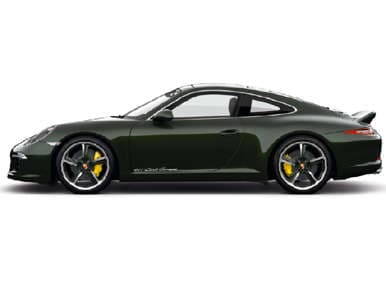 As one of the most enthusiast-driven automakers of all time, Porsche car clubs have been around almost as long as it has been building its iconic sports cars. Just four years after the first Porsche 356 was produced, two Porsche groups were originated totaling 13 members, and now with more than 640 Porsche clubs around the world, Porsche is celebrating 60 years its aficionados with the ultra limited-production 2012 Porsche 911 Club Coupe. To commemorate the original 13 Porsche Club members, only 13 of the 911 Club Coupe models are being built, and of these cars being built, only 12 will make it into the safe keeping of prospective customers - who will be chosen through a lottery of existing Porsche Club members - and the final example will remain at Porsche's headquarters to "honor the Porsche Club World." To be included in the lottery, Porsche Club members must register HERE by July 16, 2012 before the car is unveiled about a month later on Aug. 26, 2012.
Marking the first special-edition model of the redesigned 2012 Porsche 911, the new 911 Club Coupe is easily distinguishable with its unique "Brewster Green" exterior color and the 911 Club Coupe logos on the doors. Two-tone, 20-inch SportTechno wheels, a sportier front fascia and a classic "duck tail" spoiler also make the 911 Club Coupe instantly recognizable. The standard PASM sports suspension, an option on the 911 Carrera S, delivers driver-selectable suspension settings and a ride height that can be lowered by 20 millimeters. Inside, the new Porsche 911 Club Coupe model features a fully loaded cabin that starts out with Espresso leather with beige stitching for a subtle contrast and brushed, anodized aluminum accents on the instrument panel and door panels. Illuminated "911 Club Coupe" door sills welcome passengers into the cockpit while "60 Years of Porsche Clubs" on the door sills help recognize what this car is celebrating. As its name suggests, this commemorative car will only be offered in the hardtop body style.
In terms of performance, the 2012 Porsche 911 Club Coupe is the next step up from the base 911 Carrera in terms of power and performance. Starting with 2012 911 Carrera S, the 911 Club Coupe comes standard with the Carrera S Powerkit which bumps engine output to 430 horsepower (compared to 400 for a base 2012 911 Carrera S) thanks to redesigned cylinder heads and camshafts and a new variable intake system; the engine's torque rating of 325 lb-ft remains unchanged. Other standard performance features on the 911 Club Coupe include the quadruple-outlet Sport Exhaust System, Sport Chrono Package, composite brakes and the PDK seven-speed transmission - buyers can also choose a seven-speed manual gearbox.
Those lucky enough to be chosen by the lottery and ante up the $175,580 for the starting MSRP (in the United States) will then have his or her name laser engraved on the brushed aluminum instrument panel inserts. Buyers will also be rewarded with a pair of painted keys with leather key pouches and a photo album matching the car.