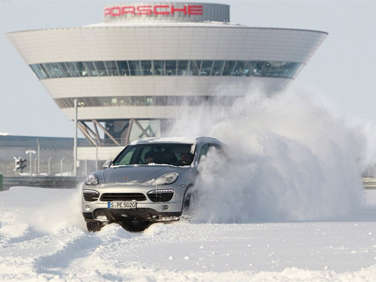 Let's say you're one of the world's most highly vaunted makers of sports cars. Now, let's say you find yourself in a situation in which the demand for sports cars has dropped precipitously, but the demand for SUVs is near stratospheric. The logical response would be to build an SUV leveraging the sporting heritage for which your company is known, and in the process, take advantage of an opportunity to introduce something completely new and distinctive to the market.
Ah, but that brilliant thought overlooks the legions of naysayers who'd insist building and marketing such a vehicle will tarnish the luster of your nameplate's glorious heritage. Significant innovations are often met with equally significant resistance. Selling out in such a manner, placing such an intensely coveted name across the rump of a TRUCK, would be pure heresy they say.
It's amazing how seriously people take these things.
It's equally amazing how wrong they can be.
The Porsche Cayenne sold like crazy.
In its first year of availability in North America (2003), the Cayenne accounted for some 45 percent of Porsche's sales volume. In 2004, a full 57 percent of Porsche vehicles sold were Cayennes.
Remarkably though, there are still people out there today who hate the Cayenne and claim it is both an abomination and an insult to the legacy of Dr. Ferdinand Porsche.
Regardless of how you feel about the Cayenne, the fact of the matter is the SUV both saved the company and set it on a new trajectory. Were it not for Cayenne, Porsche's Panamera (accounting for 31 percent of Porsche's sales in 2010) would not exist today.
And, it's very possible, neither would Porsche.
There have been three generations of the Porsche Cayenne to date.
2002 - 2006 Porsche Cayenne (Type 955)
Introduced in 2001 at the Paris Auto Show, the Porsche Cayenne went on sale in Europe in 2002 and was brought to North America in 2003. For those of you who enjoy the myriad of minuscule minutiae comprising Porsche trivia, the internal model designation of that first Cayenne was Type 955.
2003
Offered with a choice of two V8 engines (and the first V8s from Porsche since the 928 model of 1995), the trim lines were designated Cayenne S and Cayenne Turbo in deference to their engines. The 2003 Cayenne S employed a 340-horsepower, 4.5-liter engine capable of generating 310 ft-lbs of torque. The Turbo's V8 featured the same displacement, however a pair of turbochargers were affixed to augment the engine. This configuration resulted in 450 horsepower and 457 ft-lbs of torque.
A six speed automatic transmission accepted the output of both engines and routed it to all four wheels. That first Cayenne was outfitted for serious offroad duty with a center locking differential, automatic locking wheel hubs, a high and low range transfer case, hill descent control and a transmission hill holder.
However, Porsche also endowed the Cayenne with outstanding abilities on the road. A double wishbone front suspension system was complimented by a multilink arrangement, resulting in a fully independent suspension system for the SUV. ABS and traction control were fitted as standard equipment.
The tow rating was 7,700 pounds for both models.
With all of that capability and utility, a lot of companies would have been tempted to overlook the luxury, but here Porsche excelled as well. Leather upholstery predominated throughout the interior, as did genuine wood trim. Satellite navigation was standard on the Turbo and offered as an option for the normally aspirated version. The steering wheel was heated and the bi-xenon headlights swiveled in concert with the Turbo's changes of direction. (this was an option for the S model as well). A dual-zone climate control system ensured individual comfort of both the driver and the front seat passenger. An active charcoal air filter kept the cabin's oxygen fresh. The audio system employed 15 speakers and a 350-watt amplifier.
The Turbo offered a self-leveling air suspension system, which also enabled the driver to choose from six pre-selected ride heights — giving the Cayenne a maximum of 10.7 inches of ground clearance. The air system was optional for the Cayenne S.
2004
For 2004, Porsche introduced the six-cylinder version of the Cayenne, running a 247-horsepower version of Volkswagen's 3.2-liter VR6 engine. The engine produced 228 ft-lbs of torque and used a six-speed automatic transmission.
2005
Porsche brought a manual transmission to North America for the Cayenne in 2005, paired with the 3.2-liter VR6 engine. A hill holder system was fitted, to help preserve the Cayenne's offroad ability. Called Porsche Drive-Off Assistant, the technology used the brakes to hold the Cayenne motionless on an inclined surface until the clutch engaged. Satellite radio made its first Cayenne appearance in '05 (it was optional across the board), and navigation was added to the options list for the six-cylinder models. A panoramic sunroof was offered for the first time. Porsche also cooked up an upgrade for the Turbo, which would endow it with bigger brakes and rework its engine to increase output to an even 500 horsepower.
2006
For MY06, Porsche added yet another Cayenne variant, the Turbo S. Tweaked to pump 520 horsepower and 530 ft-lbs of torque form the twin-turbo V8, the 2006 Porsche Cayenne Turbo S had a quoted 0 - 60 time of 4.8 seconds. By comparison, that time was said to have been identical to Porsche's 911 Carrera of the period. Naturally, the suspension system and brakes were upgraded to handle the increased performance potential of the engine.
By 2006, the Cayenne lineup had expanded from two to four models; Base (247 horsepower/227 ft-lbs of torque), S (340 horsepower/310 ft-lbs of torque), Turbo (450 horsepower/460 ft-lbs of torque), and the aforementioned Turbo S. All used six-speed automatic transmissions, though there was a six-speed manual available as an option for the Base Cayenne.
Seventeen-inch alloy wheels, leather upholstery, twelve-way power actuated adjustable seats, dual-zone automatic climate control, and a twelve-speaker CD-based stereo system were key components of the base Cayenne model's formula. For Cayenne S, Porsche folded in eighteen-inch wheels, the 340-horsepower, normally aspirated 4.5-liter V8 engine, and a 350-watt, 14-speaker Bose audio system.
Turbo and Turbo S models ran an air suspension system with automatic ride height and damping adjustment (also known as Porsche Active Suspension Management), in addition to bi-Xenon adaptive headlights, a sat-nav system, heated seats (both front and rear), seat memory, and front/rear parking assist.
To further differentiate the top dog Turbo S, that version of the Cayenne also came with twenty-inch wheels to complement its special interior and exterior trim details.
Porsche, ever keeping an eye on the bottom line (enlarging it— that is), offered pretty much all of the features of the Turbo models as options on all the other Cayennes. Plus there were such additional temptations as a four-zone automatic climate control system, ultra-racy bolstered sport seats, and a six-disc CD changer. If you were even more specific about your intentions for your Cayenne, you could also choose from a number of different tire and wheel packages. There was an off-road package available as well.
2007
With significant updates coming for 2008, there was no 2007 Cayenne model.
2008-2010 Porsche Cayenne (Type 957)
The Type 957 Porsche Cayenne bowed in 2008, with larger displacement engines featuring direct fuel injection, suspension revisions for better performance on the road, and minor revisions to the exterior styling. The 2008 Cayenne GTS model paired a V8 with a manual transmission for the first time in Porsche's SUV.
The VW-sourced 3.2-liter VR6 engine (also found in the VW Golf R32) was replaced by a more traditional V6 engine, displacing 3.6 liters and producing 290 horsepower. The V8's displacement was increased to 4.8 liters and made 385 horsepower in its Cayenne S application. When fitted to the GTS model it produced 405 hp. For the 2008 Turbo, Porsche's engineers fitted a pair of turbochargers to the V8 once again, and coaxed 500 horsepower from the engine. Six-speed automatic transmissions were standard with each engine. However, six-speed manuals returned as offerings for the Base V6 model and — as we said before — the GTS.
For 2008, the Cayenne family encompassed five trim lines; the Base (V6) Cayenne used seventeen-inch wheels, an automatic climate control system, a twelve-speaker CD-based audio system, foglamps, full power accessories (including the front seats), leather upholstery, and a power-operated rear hatch.
Cayenne S rocked eighteen-inch alloy wheels in addition to all the Base Cayenne's goodies. For those concerned the standard Cayenne was a bit too effeminate, Porsche broke out the Cayenne GTS with a sport exhaust system, twenty-one-inch alloy wheels, and the active air suspension system from the Turbo. The GTS used a twenty millimeter lower ride height than other Cayennes, which made it handle better and look more aggressive to boot.
Cayenne Turbo's active air suspension, exclusive front and rear styling cues, more subdued brushed aluminum body accents, Bose audio system, navigation system, park assist (front and rear), front and rear heated seats, and Alcantara headliner set it apart from lesser Cayenne models.
However, if you wanted, Porsche would happily let you buy most of the Turbo's "exclusivities" as options for your "plain old Cayenne". Keep in mind this is a Porsche we're talking about — so the list of stand alone options was very long too.
Wheel options ranged up to twenty-one inches. There was also a four-section panoramic moonroof available. Other features included insulated glass, the Porsche Dynamic Chassis Control active anti-roll bar system, a broad variety of wood and aluminum interior accents, a rearview camera, satellite radio, and a CD changer. A locking rear differential and skid plates were offered as part of the Porsche Off-Road Technology Package.
2009
A new touchscreen infotainment system brought hands-free Bluetooth connectivity and iPod controllability to the Cayenne's dash and steering wheel. The sat-nav system went hard drive based and DVD-based video entertainment systems debuted in the Cayenne. The Turbo S muscled its way back into the Cayenne lineup, this time with an awe-inspiring 550 horsepower and 553 ft-lbs of torque. Carbon ceramic brakes were offered as an option for all V8 models, and turbocharged Cayennes got bigger brakes altogether.
2010
Two special edition models were offered for 2010, Cayenne S Transsyberia and Cayenne GTS Porsche Design Edition 3.
The Cayenne S Transsyberia package, built to commemorate Porsche's victory in Transsyberia rally, usurped the 405-horsepower V8 from the GTS and teamed it with the Turbo's air suspension system, a biplane spoiler, roof-mounted lights, skid plates, a faux-suede interior upholstery treatment, and sport seats. If you wanted to make it a true dirt devil, you could add the optional Off-Road Technology package's lockable rear differential, rock rails, and its engine, fuel tank and rear axle reinforcements.
The Lava Grey Metallic GTS Porsche Design Edition 3 was a one thousand unit limited edition one-off based on the GTS. It was distinguished by dint of a set of twenty-one-inch SportPlus wheels, black leather upholstery with red contrasting seams, and a Porsche Design Chronograph.
2011+ Porsche Cayenne (Type 958)
After debuting at the Geneva Auto Show in March of 2010, the all-new 2011 Porsche Cayenne went on sale later that year as a 2011 model. With this new iteration of the Cayenne, Porsche actually brought to market a vehicle lighter than the one it replaced. A significant reliance on aluminum and magnesium made the Type 958 Porsche Cayenne weigh less than its predecessors. In terms of overall size though, the Cayenne actually grew taller, wider and longer.
While eight-speed automatic transmissions replaced the six-speed units, which had been employed since the model was introduced in 2002, the six-speed manual returned for the Base Cayenne. All models equipped with the eight-speed automatic transmission also got automatic start/stop technology to conserve fuel.
Output of the V6 was revised to an even 300 horsepower and 295 ft-lbs of torque. The normally aspirated V8 was bumped to 400 horsepower and 369 ft-lbs. The Turbo retained its 500/516 rating. Turbo S and GTS were dropped for 2011, but a Hybrid model was added and designated Cayenne S Hybrid.
The 2011 Porsche Cayenne S Hybrid ran a 3.0-liter supercharged V-6, teamed with an electric motor and the aforementioned eight-speed transmission. All told, the system was good for the equivalent of 380 horsepower and 427 ft-lbs of torque.
The Base 2011 Porsche Cayenne rode on eighteen-inch cast-aluminum wheels, and employed self-leveling automatic headlamps, in addition to front and rear foglamps and LED running lights. Buyers could choose between an eight-speed automatic transmission and a six-speed manual for this model. Other features included a power tailgate, automatic wipers, and a dual-zone automatic climate control system.
Standard equipment also included a set of eight-way power adjustable front seats, a tilt-and-telescoping steering wheel, a sliding and reclining 40/20/40-split rear seat configuration, and leather upholstery. Bluetooth connectivity was incorporated into the touchscreen infotainment system. A ten-speaker CD-based sound system with an auxiliary audio input port was the base entertainment setup.
The Cayenne S and Cayenne S Hybrid shared standard equipment specs, although they ran different steering systems. Porsche stuck with speed-sensitive hydraulic steering for the S, but went to an electric system for the Hybrid. Both also got a sunroof and driver memory functions as standard fare.
The Cayenne Turbo used nineteen-inch wheels, an air suspension system, and adaptive bi-xenon headlights. Its front sport seats featured adjustable cushion and backrest side bolsters. The Turbo also used sport seats for the rear passengers, a heated power-adjustable steering wheel, and aluminum interior trim instead of wood. Its electronics package included a DVD-based sat nav system and a fourteen-speaker Bose surround-sound audio system fed by a head unit featuring satellite radio and an iPod/USB audio interface.
But that was all just for openers. Porsche's options list is longer than the history of the company—and that dates back to well before the Second World War. For Cayenne, you could add embossed Porsche seat logos and choose from a plethora of different wheel designs. There was also active body control, carbon-ceramic brakes, front and rear parking sensors, a rearview camera, a blind-spot warning system, a panoramic sunroof, smart cruise control, keyless ignition and entry, a four-zone automatic climate control system, ventilated (cooled) front seats, voice-activation controls with the navigation system, a rear-seat DVD-based video entertainment system, a six-disc CD/DVD changer, and a sixteen-speaker surround-sound audio system. Needless to say, an injudicious checking of boxes on the options list could catapult the price of a Porsche Cayenne Turbo well into Bentley Continental range.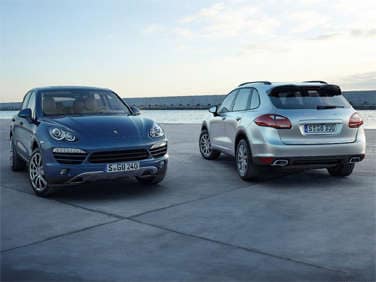 Current Model: 2012 Porsche Cayenne
The 2012 model adds — as you might by now expect — new options. Today's Porsche Cayenne buyers can avail themselves of a blind spot warning system, larger carbon ceramic brakes for the Turbo, and, as was first offered in 2004, a Power Kit option for the Cayenne Turbo. This time, fitting the kit will bump its output to 540 horsepower.
Summary
You'd think by now the general public would know when to just shut up and wait and see. The anguished outcries accompanying the announcement of the Porsche Cayenne's introduction back before the 21st Century entered puberty proved to be horrendously overwrought.
In addition to saving the company, Porsche's Cayenne added a new dimension to its offerings and opened the door for a broader array of products. Demonstrating its ability to infuse its performance oriented DNA into pretty much anything to which the decision was made to affix the Stuttgart crest, brought the company even greater respect (in addition to bucket loads of cash). With Cayenne, Porsche proved the SUV could be an extremely high performance auto, one immensely capable both on the road and off the road, while simultaneously coddling its occupants in palatial luxury.
Those first Cayenne models have now depreciated in price to where you can actually choose between buying an early Porsche Cayenne or a brand-new Toyota Corolla for about the same money. Of course with that early Cayenne will come maintenance issues a Toyota buyer will never face. These are enormously complex autos with a history of very expensive maintenance procedures and breathtakingly high prices for spare parts.
Porsche ownership can be one of the most glorious experiences in all of motoring — it can also be one of the most costly. If you have your heart set on a pre-owned Porsche Cayenne, do yourself a favor and buy the newest one you can comfortably afford. Take your time, shop carefully, and don't skimp on the inspections.
Make sure you run a vehicle history report to ensure the provenance of the vehicle you have in mind. There have been some recalls issued for the Porsche suv as well, so you'd do well to run an Internet search to learn which procedures applied to the model of your interest and make sure they were performed before you buy. Further, the pre-purchase inspection by a trusted qualified professional independent Porsche mechanic is an extremely crucial step in the Cayenne buying process. Do not overlook it.