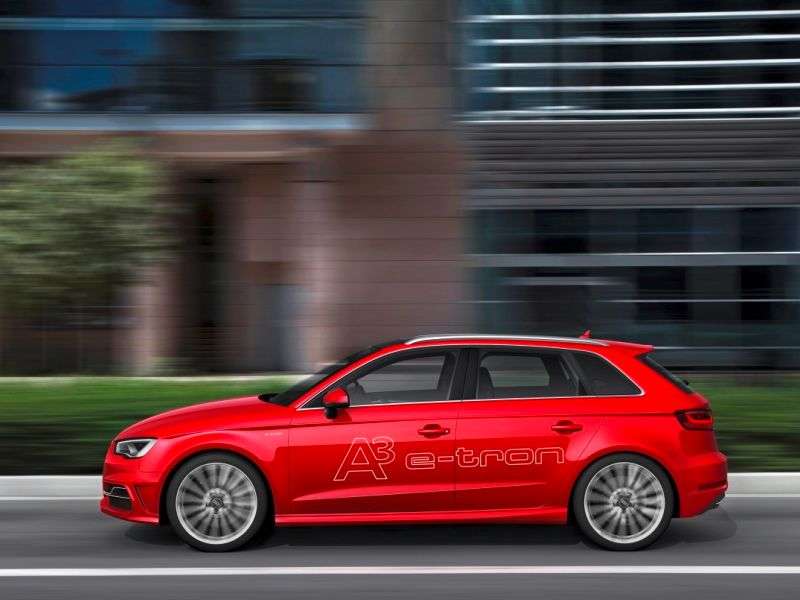 If you like the concept behind the Chevy Volt but wish the Bowtie brand offered an SS model, Audi may have just what you're looking for: The 2014 Audi A3 Sportback e-tron. Like the Volt, the four-rings brand's first plug-in hybrid combines a fairly significant all-electric driving range of more than 30 miles with the ability for hundreds of more miles of travel using a gas-power hybrid powertrain.
But while the Volt has a lead in the former, with an EPA-certified 38-mile all-electric driving range to the 31 miles of the 2014 Audi A3 Sportback e-tron, the A3 boasts a massive advantage in terms of overall range. And it's not just over the Volt, either. Thanks to a turbocharged 1.4-liter 4-cylinder engine with the automaker's TSFI technology, as well as its lightweight construction, the 2014 Audi A3 Sportback e-tron can provide more than 550 extra miles of range at the equivalent of 157 mpg--in European testing anyway.
Needless to say, drivers shouldn't expect triple-digit EPA grades from the car's gas engine, but they can expect some relatively brisk performance. Consider: The 2014 Audi A3 Sportback e-tron weighs under 3,500 lbs., but it combines a 150-hp engine and a 75-kW electric motor for total system outputs of 204 hp and some 258 lb.-ft. of torque. As a result, the 2014 Audi A3 Sportback e-tron will be able to sprint from 0 to 100 km/h (about 62 mph) in 7.6 seconds and reach a terminal velocity of almost 138 mph.
Oh, and its 8.8-kWh battery pack can be recharged in fewer than 2.5 hours using a European "16 A" electrical outlet.
Just note that all that performance comes with a price, and in this case with a European MSRP that will exceed $49,000. The 2014 Audi A3 Sportback e-tron will no doubt be eligible for a slew of federal tax credits when it arrives here some time next year, but that's still about $15,000 more than the Volt.