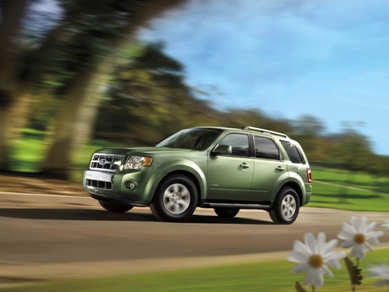 Ford touts the Escape Hybrid as the most fuel-efficient SUV on Earth. With the front-wheel-drive version getting 34 mpg, City/ 30 mpg, Hwy, they just might be right. The higher fuel mileage in the city is probably due to the regenerative braking which is one of the advantages of this hybrid's technology.
Photo Credit: Ford
Page 2
Sibling to both the Ford Escape Hybrid and the Mercury Mariner Hybrid crossovers, the Mazda Tribute Hybrid obtains the same mpg of 34 City/ 30 Hwy. According to Mazda, they will only be selling 350 Tributes to start with and only in California.
Photo Credit: Mazda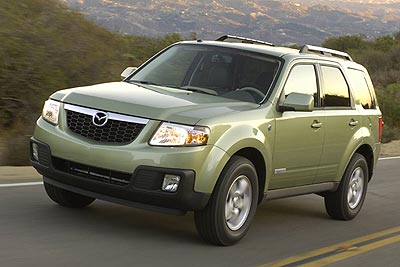 Page 3
Mechanically similar to the Ford Escape Hybrid and the Mazda Tribute Hybrid, the Mercury Mariner Hybrid crossover gets 34 mpg, City/ 30 mpg, Hwy. Classy and versatile, the Mercury Mariner SUV is yet another great choice in a growing hybrid market.
Photo Credit: Mercury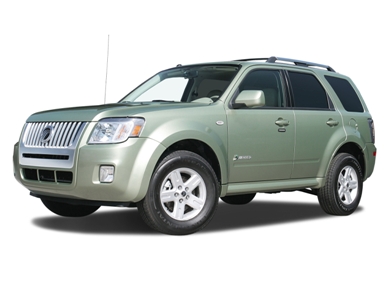 Page 4
The Saturn Vue Green Line Hybrid's powertrain is capable of 25 mpg, City/ 32 mpg, Hwy. Sharp styling, great fuel economy and a great price make the Vue Green Line Hybrid a great deal. Keep an eye out for the 2009 Saturn VUE Green Line Two-Mode Hybrid that's powered by a 3.6-liter twin-cam V-6.
Photo Credit: Oliver Bentley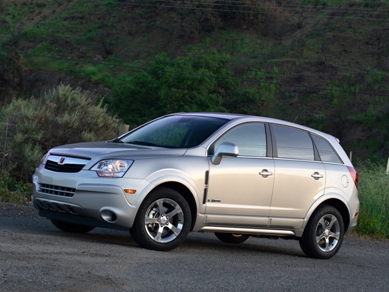 Page 5
The Lexus RX 400h is a luxury SUV that gets very respectable mpg -- 27 City/ 24 Hwy. It's also powered by 3.3-liter V-6 that, when combined with the electric motor, puts out 268 hp. Lexus luxurious and great on gas -- that's a tough combination to beat.
Photo Credit: Lexus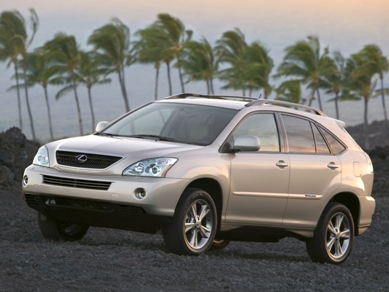 Page 6
The 2008 Toyota Highlander Hybrid crossover is available in two trims, the Base and the Limited. Both trims come with a 3.3-liter V-6 that is capable of 27 mpg, City/ 25 mpg, Hwy. So if you've got to haul a family of seven a long distance, the Highlander Hybrid could be right for you.
Photo Credit: Ron Perry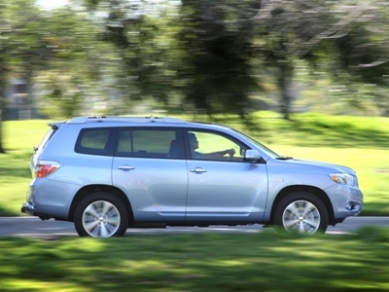 Page 7
The GMC Yukon Hybrid SUV looks like it could seat a couple generations of my family comfortably. With the the 2-wheel-drive version getting 21 mpg, City/ 22 mpg, Hwy, it would be great for that family reunion/road trip.
Photo Credit: Oliver Bentley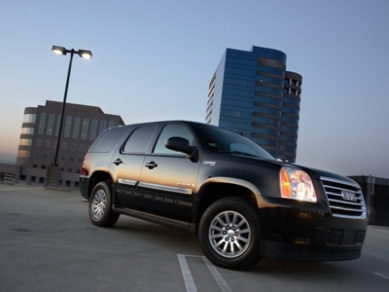 Page 8
If you ever see spinner rims on a hybrid SUV, it'll probably be the 2009 Cadillac Escalade Hybrid. Even if you aren't a rap superstar, you'll probably still be very happy with the real high fuel economy: 21 mpg, City/ 22 mpg, Hwy.
Photo Credit: Cadillac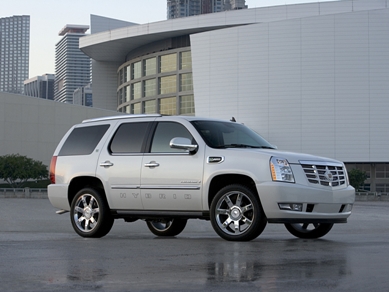 Page 9
The 2009 Chrysler Aspen Hemi Hybrid SUV is capable of towing 6,000 lbs. The best part is that the Aspen is able to do so while getting an estimated 19 mpg, City/ 20 mpg, Hwy. You can save double the gas by using it to tow your gas-guzzling sports car to the station for a fill-up.
Photo Credit: Chrysler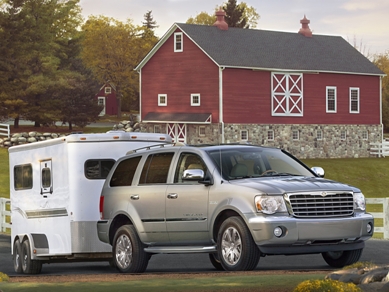 Page 10
The 2009 Dodge Durango Hemi Hybrid SUV puts down an estimated 345 hp. It's a great mix of performance and fuel economy. Thanks to Two-Mode Hybrid technology, the Durango hybrid obtains an estimated 19 mpg, City/ 20 mpg, Hwy.
Photo Credit: Dodge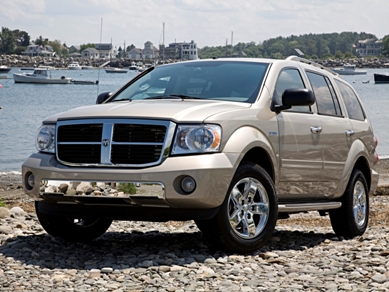 Page 11
There aren't many differences between the 2008 Chevrolet Tahoe Hybrid SUV and the regular gasoline-only models. However, there is one important difference: The Tahoe Hybrid gets 21 mpg, City/ 22 mpg, Hwy, which is a 50-percent fuel-economy improvement in the city.
Photo Credit: Chevrolet