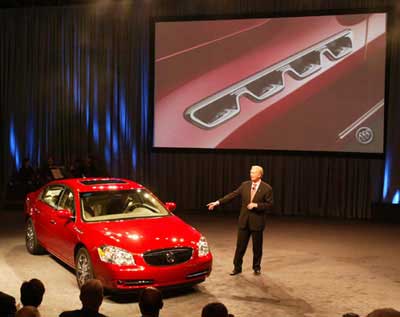 CHICAGO -- Domestic automakers came to the nation's largest Auto Show this week and rolled out enough vehicles to jam Michigan Avenue. From the Buick Lucerne to the Dodge Charger R/T and The Mercury Mariner Hybrid, the likes of General Motors, Ford and Dodge debuted several significant vehicles, all of which they hope sell like Toyotas.
Oh yeah. Toyota. All the new domestic metal didn't stop Toyota from stealing the show, however, with its own take on retro futurism, otherwise known as the Toyota FJ Cruiser, which is featured in a special photo gallery. Gary Cowger, President of General Motors North America, introduces the 2006 Buick Lucerne at the Chicago Auto Show. Behind Cowger, note the slide that displays a close-up of Buick's traditional front fender portholes.
2006 Buick Lucerne
The 2006 Buick Lucerne's interior features upgraded materials, improved panel fits, and a luxurious look and feel.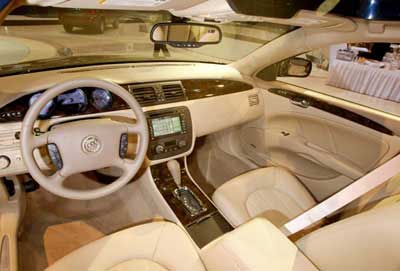 2006 Cadillac DTS
The 2006 Cadillac DTS is a significantly updated version of the existing DeVille, with new styling front and rear, a redesigned interior, and a new alphanumeric nameplate.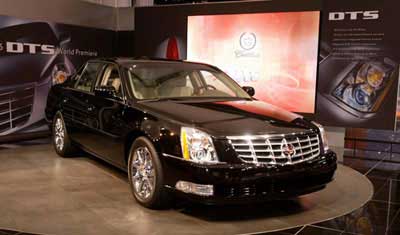 2006 Cadillac DTS
Improved interior materials, redesigned instrumentation, and new front seats make the 2006 Cadillac DTS more luxurious than ever.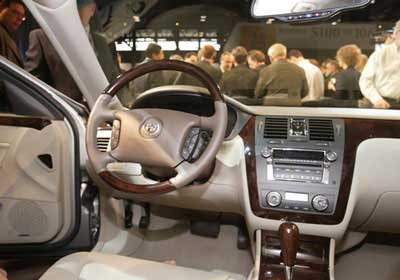 2006 Cadillac DTS
Does the 2006 Cadillac DTS resemble a 1974 Chevrolet Monte Carlo at the rear end, or have we had too much caffeine?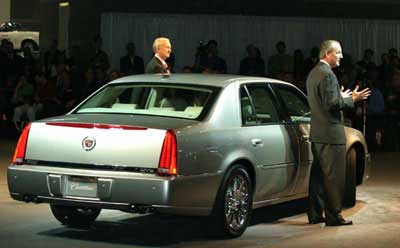 2006 Dodge Charger Daytona R/T
Painted "Go, Man, Go!" metallic orange, the 2006 Dodge Charger Daytona R/T adds power, suspension improvements, quicker steering, performance tires, and special trim inside and out. This special-edition Charger commemorates the return of the nameplate to NASCAR racing at the Daytona International Speedway, and goes on sale this summer. Later, "Top Banana" yellow will be available.
2006 Dodge Charger Daytona R/T
Special body-color interior trim helps to reduce the monotony of the 2006 Dodge Charger Daytona R/T's interior, which gets special sport seats and a numbered plaque for the dashboard.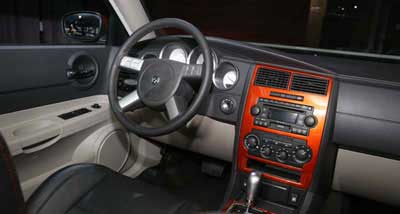 2006 Dodge Charger Daytona R/T
Old-school "R/T" badges on the 2006 Dodge Charger Daytona R/T signify that, yeah, this thing's got a Hemi. And it's pushing 350 horsepower, more than standard.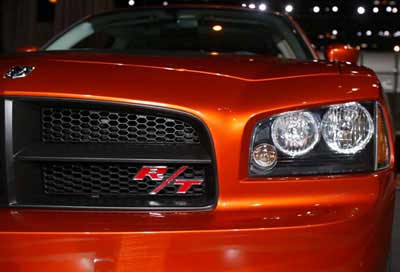 2006 Dodge Ram Mega Cab
The new 2006 Dodge Ram Mega Cab resolves the main shortcoming of the Ram Quad Cab by adding 20 inches of length to the interior, which results in more rear seat legroom than a Maybach ultra-luxury sedan. All 2006 Dodge Rams get styling updates that resemble the Dodge Dakota.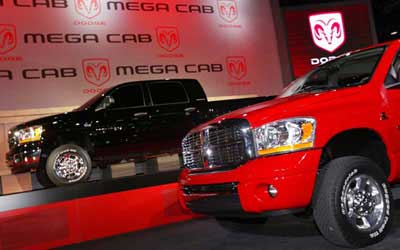 2006 Dodge Ram Mega Cab
Debuting on the 2006 Dodge Ram Mega Cab is a redesigned interior for all Ram trucks, which includes a revised instrument panel with new gauges, improved materials, and new seats.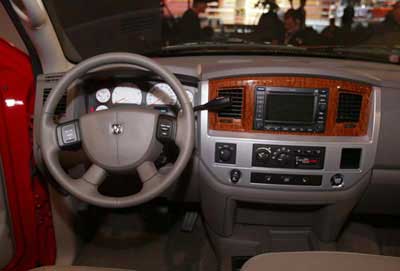 2006 Dodge Ram Mega Cab
What's in your wallet? To illustrate the six-passenger capacity and full-size pickup bed on the 2006 Dodge Ram Mega Cab, several sets of costumed performers emerged from the interior during the vehicle's introduction, including these ranch hands, weightlifters, construction workers, and Viking warriors, turning the stage into a Village People fan party gone horribly awry.