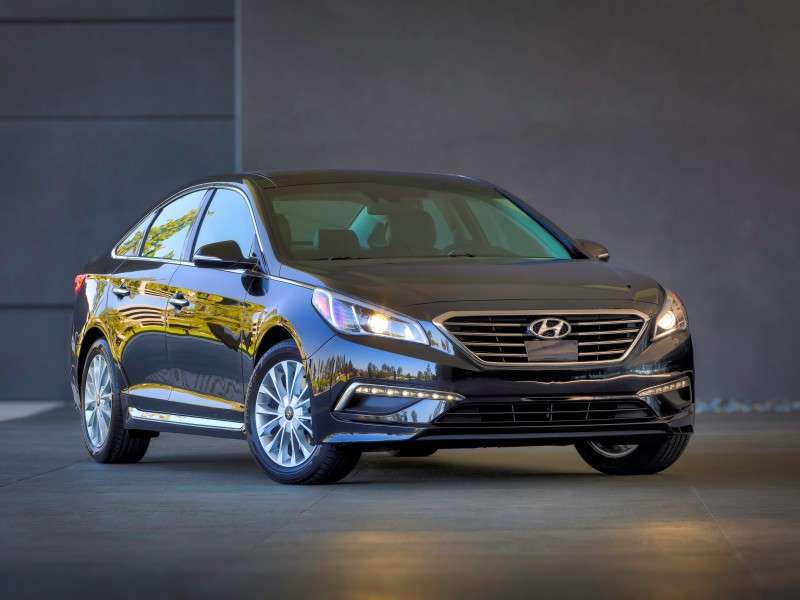 2015 hyundai sonata
The redesigned 2015 Hyundai Sonata has gotten off to a fast start sales-wise, helping push volume up by 25 percent last month alone, and the brand is clearly looking to continue the momentum for what's one of the most important products in its lineup. 
For example, the company now has launched a new in-vehicle Car Care app for the 2015 Hyundai Sonata that leverages the brand's exclusive Blue Link telematics technology. Available on 2015 Hyundai Sonata models equipped with navigation, the latest Car Care feature replicates the same functionality offered by the company's smartphone app, but puts the interface front and center on the car's 8-inch media touchscreen. From there, owners of the 2015 Hyundai Sonata will be able to schedule service appointments, get maintenance and recall reminders and even enjoy Hyundai's first interactive owner's manual.
The party line from Barry Ratzlaff, executive director, customer connect and service business development for Hyundai Motor America: "After we created the Hyundai Assurance Car Care mobile app, we asked ourselves if we could offer the same features and functionality right inside the vehicle's touchscreen. The in-vehicle Car Care app gives customers the services and information they want the most, when they are thinking about them most, which is right inside their car. It also reflects Hyundai's core interior design principles, which are safety, intuitiveness and simplicity."
Needless to say, the 2015 Hyundai Sonata also is the subject of a major advertising campaign from the company, and it represents a major change in approach, too. After seven years as the narrator of Hyundai's top ad spots, award-winning actor Jeff Bridges will be succeeded by Paul Rudd, well known for his comic turns on both the silver and small screens.
In fact, the first new spot featuring the 2015 Hyundai Sonata and Rudd already has made its debut. Called "Co-Pilot" and available for viewing anytime on the Hyundai YouTube channel, the ad shows how the many advanced technologies offered by the 2015 Hyundai Sonata—including lane-departure and blind-spot alerts—can help head off input from back-seat drivers.
According to Steve Shannon, vice president of Marketing for Hyundai Motor America: "We were looking for a voice that could be recognizable and relatable to a new generation of car buyers. Rudd can be serious, humorous, informative and entertaining all at the same time. It's his modern sensibility that we knew would be a perfect match for today's customers."
The 2015 Hyundai Sonata, wrapped in a striking "Fluidic Sculpture 2.0" design, is currently at dealerships with an MSRP of $21,150.