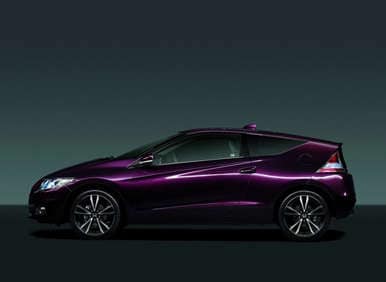 Although it's far from being a traditional sports coupe, the 2013 Honda CR-Z will follow a very traditional formula in attempting to boost sales for the new model year: Boosting its power output, too. As revealed during the 2012 Paris Motor Show in France, the CR-Z gets that and more, also welcoming a refreshed design and new battery technology. The car's fuel-economy, however, appears as if it will remain the same—as evidenced by its initial results in European fuel-economy testing—and while that's better than if its ratings went down, it's still a little surprising. Especially when you realize that the sportiest version of Honda's sport hybrid, the one with the six-speed manual transmission, is rated by the EPA at relatively mundane 31 mpg city/35 mpg highway/34 mpg combined. (The CVT-equipped model can reach 35/39/27.)
On the other hand, given the priorities of most U.S. drivers, if Honda engineers were only going to enhance one side of the CR-Z's performance-efficiency balance, it certainly picked the right choice.
2013 Honda CR-Z: Horsepower Climbs by +10 Percent
Engineers put in some serious work in upgrading the powertrain in the 2013 Honda CR-Z, massaging its 1.5-liter gas engine to extricate an additional 7 or so horsepower. Changes include an updated variable valve timing system, a reprogrammed engine control unit (ECU), an upgraded crankshaft and, to reduce noise, vibration and harshness, the deployment of an anti-vibration knock sensor. Additionally, Honda swapped out the CR-Z's old-school nickel-metal-hydride battery pack for more efficient and compact lithium-ion tech. The result:
Combined system output rises from 122 hp to more than 135. That may not seem like much of a change, but it does represent a healthy 10.6 percent increase in horsepower.
Torque jumps from 128 lb.-ft. (with the manual transmission) to a bit over 140, accounting for a non-negligible improvement of approximately 9.4 percent.
Acceleration from 0-62 mph gets shaved down from 9.7 seconds to an even 9.0, with terminal velocity reached at 124 mph.
The 2013 Honda CR-Z also will showcase a secret weapon of sorts, in the form of a new Plus Sport (S+) boost system. With this technology on board, and as long as the car's battery is more than 50 percent charged, drivers can engage the S+ feature for a 10-second burst of electrically enhanced acceleration.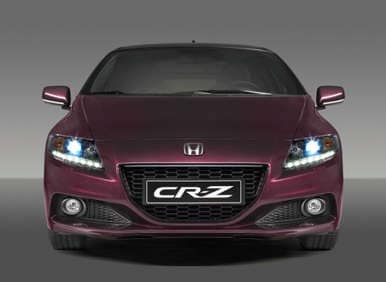 2013 Honda CR-Z: From the Style File
The party line from Paris is that the 2013 Honda CR-Z "can be identified by a range of styling upgrades that emphasize the coupe's sporty appeal," and said upgrades include a slightly reshaped grille and a redesigned front bumper that takes a page from the Kia design book, creating a sort of "mouth" with the foglights mounted in the corners. The 2013 CR-Z also jumps on the LED bandwagon, adding lower light strips to its headlamps, while its rear diffuser has been revised and new 17-inch alloy wheels have been added to the CR-Z GT. Also new: Two exterior colors, designated Energetic Yellow and Aurora Violet.
A new color scheme is on display in the car's cabin, too, where changes in the design of the interior door panels also provide more storage.
Drivers can expect more details about the 2013 Honda CR-Z as we get closer to its on-sale date early next year.