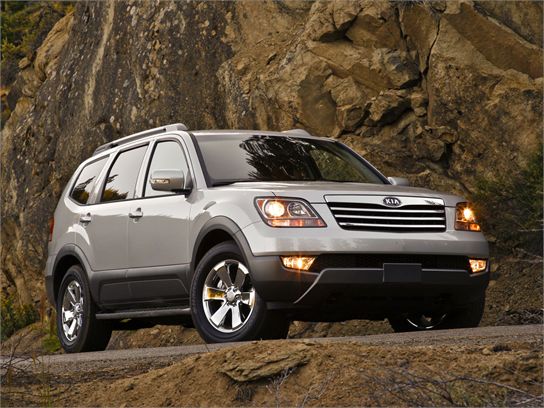 The all-new 2009 Kia Borrego brings Kia's blend of solid fuel economy, strong features, big roominess, and extra touches of class to the midsize-SUV market.
Kia brings value anywhere it goes. With the 2009 Kia Borrego, that doesn't change. But with cheap gas prices hard to find, this Kia midsize SUV is going to be a tough sell, even though fuel economy is high on the Borrego priority list.
As you review your choices for a midsize sport-utility vehicle (which not many are doing these days, considering the shortage of cheap gasoline prices), you might find the 2009 Kia Borrego SUV wedging into your brain right as you try to concentrate on a 2009 Honda Pilot, Ford Explorer, Nissan Pathfinder, or GMC Acadia. The new Borrego is the biggest SUV that Kia has ever made and offers three rows of seating.
Equipped with a generous list of standard features at a very competitive price, the Kia Borrego looks good on paper. And with strong fuel economy and a pair of strong engines, a Borrego feels perfectly at home on the road as well.
Page 2
Broken down to its essentials, the 2009 Kia Borrego lineup consists of three variants -- the LX and EX (available in Kia showrooms now), and the Limited which goes on sale this fall. LX and EX models are powered with a choice of V-6 and V-8 engines mated to automatic transmissions and available with rear-wheel drive or 4-wheel drive. The Limited receives only the V-8 and 4wd.
Priced to aid you in the decision-making process, the Kia Borrego LX starts at a highly affordable $26,245 and reaches to $30,995 for the 4wd V-8 version. The added niceties of the EX model start it at $27,995 for rear-drive models and top out at $32,995 for a 4wd V-8 Borrego.
Displacing 3.8 liters, the Borrego V-6 engine produces a respectable 276 horsepower and 5,000-lb. towing capacity. In 2wd form, fuel-economy figures are 17 mpg in the city and 21 mpg on the highway. The 4wd LX mpg is slightly less, at 16/21 city/highway.
Surprising fuel-saving news, however, comes courtesy of 2009 Kia Borregos equipped with the 4.6-liter V-8. In rear-drive form, the SUV gets 15 mpg in the city and a class-topping 22 mpg on the open road. Why? It's the result of the V-8 engine's six-speed automatic transmission (versus a five-speed automatic for the V-6). Kia tells us that the V-8 sets two other in-class records as well: the top horsepower number (337) and top towing capacity (7,500 lbs.). And all of this is done on regular gas.
All 2009 Kia Borrego models share body-on-frame construction that rides on an independent-front/multilink-rear suspension. Stopping power is supplied by 4-wheel disc brakes. On V-6 Borrego models, those brakes are housed in 17-inch alloy wheels and tires, with 17-inch chrome wheels optional on EX version. V-8 Borregos all ride on 18-inch alloy wheels, except for the Limited whose wheels are chrome.
Borrego Limited models are also set off by their body-color bumpers.
Page 3
While standard roof rails and an integrated, covered tow hook are impressive, it's on the inside that the value message of a 2009 Kia Borrego comes to the fore. Even at the base LX level, the options list is very short which makes the standard equipment list very long. That list includes multiple driver-seat adjustments (including lumbar support), cruise control, keyless entry, power windows, door locks and outside mirrors, plus three months of free satellite radio. You even a standard back-up warning system.
Highlights for the move up to the Borrego EX include power front seats (8-way for the driver, 4-way for the passenger), dual-zone climate control, audio controls on the steering wheel, and a leather-wrapped steering wheel and shift knob.
Now close your eyes and think of just about everything else you could wish for, and that's just about what you get with the Borrego Limited. Leather seating, heated front seats, and a power tilt/telescoping steering wheel (all elements of the Luxury Package option for the EX) come standard, as do rear-seat air conditioning, a sunroof and a 10-speaker Infinity sound system, which, along with running boards and a rearview camera make up the EX Premium Package option.
All 2009 Kia Borregos offer three rows of seating with good head room throughout (limited leg room in the rear, though). While there's only 12.4 cubic feet of storage space with all the seats up, the 2nd and 3rd rows will fold neatly flat to open up 97.6 cubic feet of cargo area with all the seats folded flat.
The airbag count for the Borrego is six (frontal-impact and side-impact airbags for the driver and front-seat passenger, plus side-curtain airbags that cover all three rows), plus a kneebag for the driver on V-8 models. Traction and stability systems are standard on all Borregos, as is an emergency-sensing brake-assist system.