Set on a new Chevy Silverado or Toyota Tundra? Not so fast.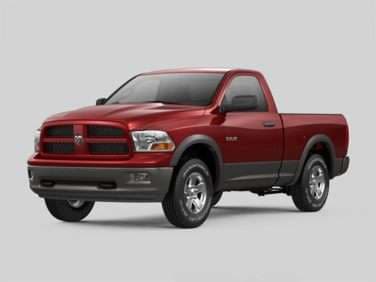 The list is long, including a new take on the unmistakable Dodge Ram truck look, a redesigned interior focused on convenience and quality, a more powerful Hemi engine, countless handy storage provisions, and improved ride courtesy of a coil spring rear suspension.
With its top-notch ride (for a truck), game-changing storage provisions and mighty Hemi V-8, the 2009 Dodge Ram is once again a must-see for truck shoppers. But, for class-leading capability, you'll need to look elsewhere.
Doctors call it the fight or flight response, and it relates to our reaction to a perceived threat: Will we fight or will we run? The response is instinctual for people and animals, but you'll also discover the fight or flight phenomenon at play elsewhere. Let's use Dodge, maker of the redesigned 2009 Dodge Ram pickup truck, as an example.
Thanks to vastly improved offerings from Toyota and General Motors, Dodge's position in the full-size truck space has waned in recent years. Add in high gasoline prices coupled with a general shift toward smaller vehicles, and it would be realistic to see Dodge simply assume a less significant role in the market. But just when you might be thinking "flight," Dodge executives fire back with "We challenge America to find the best truck," and "We believe it's the best truck ever built." They're talking about the 2009 Dodge Ram pickup, a truck that marks a monumental improvement over its predecessor and promises to tug at the security blanket covering pickups like the Chevy Silverado and Toyota Tundra. Among the overhauled Dodge Ram highlights are a genuine crew cab model added to the lineup of regular and quad cabs, an available 390-horsepower Hemi V-8 that provides competitive fuel economy, a bounty of storage options including the new lockable Ram Box, desirable convenience features such as Sirius Backseat TV, and a renewed focus on quality. And don't forget about Dodge's lifetime powertrain warranty.
What you won't find in the new Dodge Ram is class-leading capacity, but with a tow rating of up to 9,100 pounds and a payload rating of up to 1,850 pounds, the 2009 Dodge Ram is certainly no slouch. In fact, Dodge executives are quite frank in saying that they believe the vast majority of light-duty pickup truck buyers will gladly trade a bit of capacity for a more comfortable ride, provided by an all-new coil spring rear suspension. After a day of testing, we'd tend to agree.
Special features such as the Ram Box, a locking tailgate, and a rear camera will launch in October, but the 2009 Dodge Ram is already arriving on dealer lots. So grab your favorite seat and a big bowl of popcorn – it's fight night in Truckville.