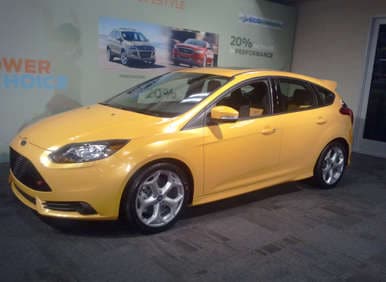 With the all-new 2013 Ford Focus ST now available for customers to order, it's only a matter of time before these high-performance hatchbacks are seen carving up road courses across the United States. For the first 1,000 people to pre-order a Focus ST, Ford will toss in a GoPro HD Hero2 Motorsports Edition camera for drivers to document their car's abilities. Retailing at $299.99, this camera should almost come standard with the $24,495 Focus ST, but the limited number of buyers who will get the camera for free upon taking delivery of the car will surely appreciate the gesture from Ford. This unique incentive is only good through August 20, 2012, but we have the feeling Ford will run out of cameras before then.
Targeted toward the enthusiast crowd, the 2013 Ford Focus ST has a turbocharged 2.0-liter EcoBoost inline-four under the hood that produces 252 horsepower and 270 lb-ft of torque - a significant jump from a standard Focus that is rated at 160 hp and 146 lb-ft. Along with the additional power, the Focus ST also gets a uniquely tuned sport suspension as well as electric power steering with torque steer compensation. The end result should be one of the most fun-to-drive Ford Focus models that has ever been sold in the U.S. While this car will be sold in more than 40 countries around the globe, the GoPro giveaway is only for U.S. buyers, but we're sure that there will be plenty of YouTube videos showing the new Focus ST being taken to the track (or a big empty parking lot for a little Ken Block-style Gymkhana action) once the car goes on sale.
"We recognize Focus ST customers are very social in nature and will love having the right tool to share their amazing drive experiences," said Lisa Schoder, Ford Focus ST Marketing manager. "I look forward to seeing videos of the Focus ST taking on some great roads across the U.S."