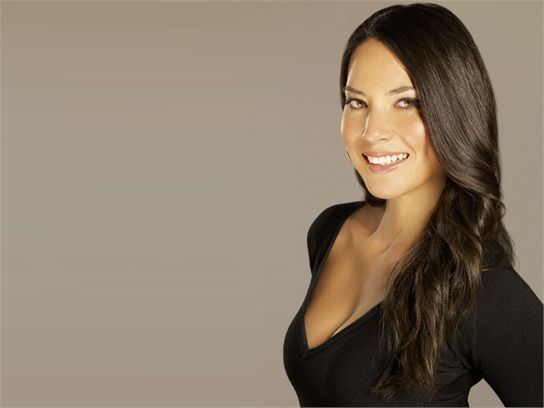 Actress Olivia Munn is best-known for her current role as co-host of G4's Attack of the Show. While we can't back it with data, we'd guess she's probably the most popular talent the channel has. In addition to her role on Attack of the Show, Munn is a successful model, having appeared in campaigns for Nike, Pepsi and Neutrogena. Olivia Munn has also been getting her Hollywood on with roles in the recently released horror-film Insanitarium, Rob Schneider's upcoming Big Stan, and The Slammin' Salmon (the next big movie from the guys who brought you Super Troopers). You can check her out too every day on G4tv.com's daily vodcast, Around the Net. With that, here's another Autobytel With.
What was your very first car? What's a memory of it you've never told anyone until today?
 My first car was a 1990 Maroon Nissan Stanza, 4-door. I remember one fateful day I decided to wash my car. Really wash my car. In California, there are hand car washes everywhere where you pay twenty bucks and your car leaves sparkling. But in Oklahoma, where I was living at the time, most people wash their own cars. I am not one to go the effort of cleaning my car, I mean, eventually it rains, and the one day it rains, I'll be there saying, "Man, I'm glad I didn't wash my car today." So, I decided to wash my car and spent 4 hours cleaning the interior and outside. It looked great and I was really proud of myself for putting in the effort. Then I decided to go visit my grandparents in a town about 30 minutes away. When I got to their house, they weren't home, so I started driving around. Out of nowhere I am side-swiped by another car and my car is totaled. I went to the emergency room and found out I wasn't injured, my car on the other hand – my sparkly, shiny, 4 hours to clean car – did not make it. I've never cleaned a car since – just kidding – I just pay someone to do it now.
Tell us about your current car situation, what you're driving, etc.
I'm driving a black BMW 335i Coupe, black interior. I didn't do anything special to it besides getting the sports package which comes with sport wheels, rims, seats, and steering wheel controls. I was thinking about tricking it out, but as I looked around at other cars on the road, I realized that the more people did to their cars, the more you could tell their cars meant everything to them. I think you should definitely have a car you're proud of and comfortable in and fun to drive, but when you can tell someone put everything they own into a car, I think that shows, especially if someone has an expensive car and they rent an apartment without a garage. I waited to get a new car when I got a house, before that I was driving an old white, 4-door BMW 5 Series. I would've rocked that until it broke down on the side of the road. I decided to get a new car because I had a place to park it, and then gave my old BMW to my brother.
If you were asked to create a 10 minute webisode about cars, what would it look like? What would you call the show?
Throwbacks…it would be about going back and finding the exact make and model that was your mom/dad/grandparents' first car.
What car do you have your eye on next? What do you like about it?
Bentley [Continental GT] coupe—black on black on black. But that'll never happen. I can never see myself paying that much for a car, especially living in LA where you have to park on the street or valet everywhere. I'd rather spend my money on homes or vacations, but the car is sick! It looks like a bullet, I love it. I would love to be gifted a Bentley Coupe [laughs].
What's your dream car, and if you could road trip it with anyone (seriously, anyone, dead or alive) who would it be?
The Bentley coupe is my dream car, but for the purposes of the second part of this question, I'm changing it to an RV. I would love to take a road trip in an RV, have my grandpa driving it and my grandma sitting in back with me like we did when I was a kid. There are so many things I wanted to say to my grandma, and ask her and so many stories I would love to hear again. She died so suddenly. Everyday I wish I had just one more day with her...or one more hour. One more anything.
We totally hear what Olivia Munn is saying; we spend quite a bit of time in the Los Angeles area ourselves and are always amused with the golden driveways attached to craptastic apartments. The 335i Coupe is tight, and BMW is slipping a diesel in that thing in 2009 so you can get some more mpgs. Finally, as to the Bentley Continental GT coupe, black on black on black, is there any other way to do it? We think not. Best of luck Oliva, and keep it locked on Autobytel.com.
By Elliot Darvick Photos courtesy of G4 TV
// <![CDATA[
var idcomments_acct = '3f2f2ed434ba775da1f398badf0da143';
var idcomments_post_id;
var idcomments_post_url;
// ]]>